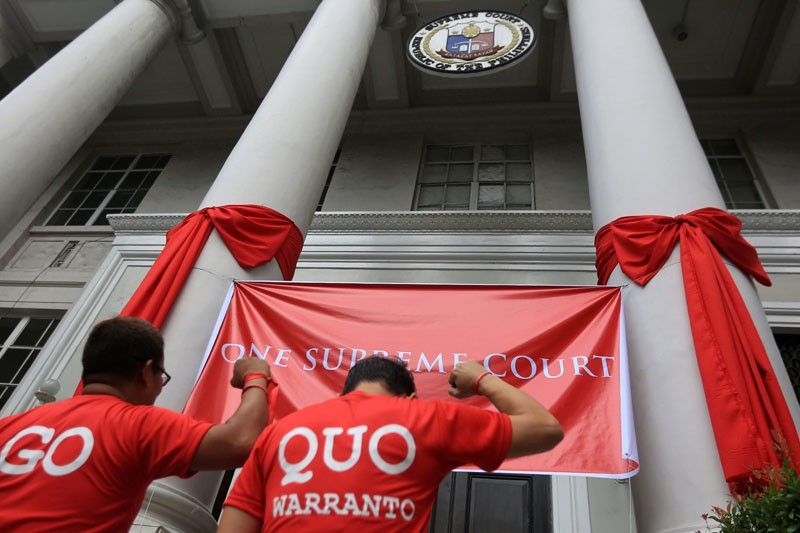 The chances of the Senate minority bloc's resolution being adopted are slim, according to Senate Minority Leader Franklin Drilon.
Edd Gumban
Slim chances for Senate resolution on quo warranto, Drilon says
MANILA, Philippines — The chances of the Senate passing a resolution asking the Supreme Court to reconsider its grant of the quo warranto petition against former Chief Justice Maria Lourdes Sereno are slim, according to Senate Minority Leader Franklin Drilon.
Drilon's comments came just hours after the Supreme Court junked the motion for reconsideration that Sereno filed in a bid to reverse its earlier decision to remove her from office.
The justices voted 8-6 in May to grant the ouster petition filed by Jose Calida, the government's top lawyer, questioning the legality of Sereno's 2012 appointment to the top judicial post.
Calida argued that Sereno's appointment was invalid since she failed to file a disclosure about her assets and liabilities, a requirement for government employees, which supposedly damaged her integrity.
The decision sent shockwaves to the Philippine political scene and critics and groups warned that the ruling undermined the judiciary's independence.
A majority of senators signed the resolution stressing that the power to remove Sereno rested with the Senate through impeachment.
However, the resolution authored by the Senate minority had not been adopted as Congress adjourned without taking any action on it.
"For me, it's chances are slim. While, personally, I believe that there is nothing wrong with expressing an opinion on a decision of the SC, the majority may feel that we can express our individual beliefs on the quo warranto but not the Senate as an institution."
He explained that the resolution could be adopted any time, even after the Supreme Court ruled on the petition with finality, as it was just meant to express the opinion of the Senate as an institution.
Drilon, who formerly served as Senate president and Justice secretary, also warned that the decision of the High Court was a "slippery slope" as any officer removable only through impeachment before could now be subjected to ouster petitions.
Sen. Panfilo Lacson said at the beginning of the month that some of the 14 senators who signed the resolution were mulling withdrawing their signatures after realizing that the arguments of the document were weak.