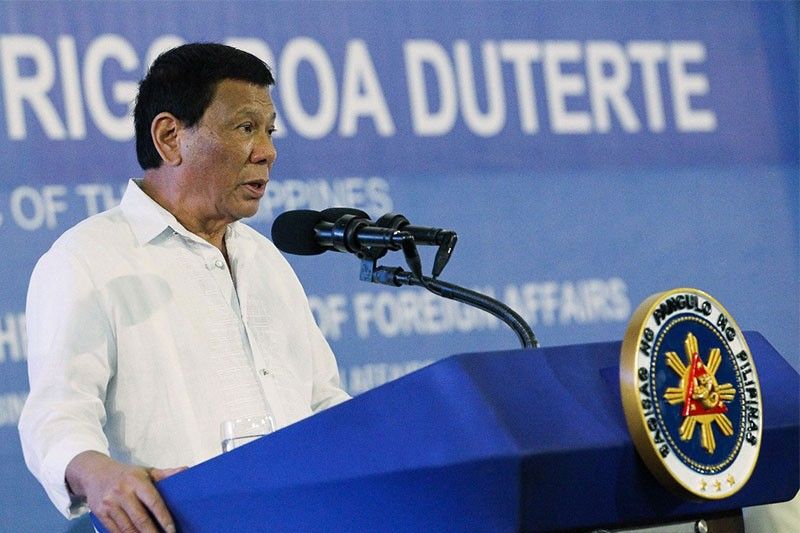 President Rodrigo Roa Duterte, in his speech during the 120th Anniversary of the Department of Foreign Affairs at the DFA Office in Pasay City on June 18, 2018, reiterates his stance of improving the peace and order situation in the country so that it would become more conducive for progress.
Presidential Photo/Simeon Celi Jr.
Palace: Scarborough 'barter' not really barter
MANILA, Philippines — President Rodrigo Duterte is not preempting the results of the Chinese government's investigation into its coast guard personnel taking Filipino fishermen's catch in Scarborough Shoal, Malacañang said Tuesday.
Downplaying reports that Chinese coast guard personnel harass Filipino fishermen in the West Philippine Sea, Duterte said that the incident was similar to a "barter exchange."
"It was a barter in exchange for the fish. The problem was with the valuation," Duterte said in a speech at the celebration of the 120th anniversary of the Department of Foreign Affairs.
The Chinese government has said that it will look into the incident and that "if what the Philippine side claimed is true ... relevant Chinese departments will handle that in a serious manner."
Asked whether the president's comments tend to preempt China's investigation into its own personnel, presidential spokesperson Harry Roque said in Filipino that he does not think so.
Roque: No barter without a contract
Echoing Duterte's pronouncements, Roque reiterated that there was no contract between the Chinese coast guard and Filipino fishermen in the traditional fishing ground off the coast of Zambales.
"Because the president said it was barter but there was no agreement on the valuation. So, it wasn't a perfected contract of barter, because the president himself said that there was no agreement on the valuation," Roque said in a press briefing in Cotabato City.
"So, there was no contract on the barter because before you can have a barter trade, you need to agree on everything, including the price," he also said.
A few weeks ago, GMA News reported that some personnel of China's coast guard have been taking the catch of Filipinos on Scarborough Shoal or Bajo de Masinloc.
In a Malacañang press briefing, local fishermen asked the government to act on the unfair exchanges that were happening.
Local fishermen said that the Chinese would sometimes give them noodles, cigarettes and water in exchange of their catch.
"We just want to ask the government to limit them from asking fish from us," fisherman Romel Cejuela told reporters in Filipino.
Last week, Masinloc Mayor Arsenia Lim appealed to the president to intervene and ensure the fishermen in Scarborough Shoal.
The municipality of Masinloc in Zambales is the gateway to Scarborough Shoal, a traditional fishing ground for Filipino, Chinese and Vietnamese fishermen.
"All we ask from our beloved president is for our countrymen to live in peace, for them to fish without being bullied, and to be able to seek shelter (in the shoal) when the waves are strong," Lim said.
Related video: