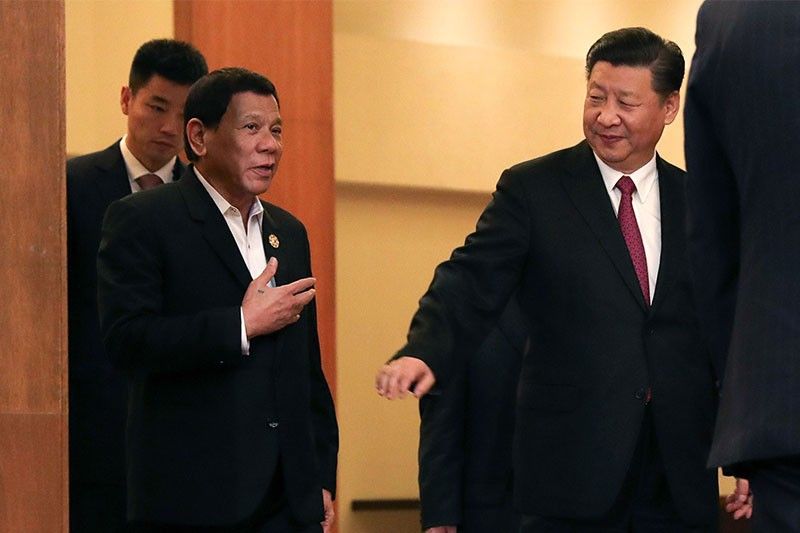 In this November 2017 photo, President Rodrigo Duterte meets with Chinese President Xi Jinping at the sidelines of the APEC Summit in Vietnam.
Presidential photo
Duterte: I was harsh to Xi Jinping
MANILA, Philippines — President Rodrigo Duterte claimed he was "a bit harsh" to Chinese President Xi Jinping the first time they met in October 2016.
Speaking during the 120th founding anniversary of the Department of Foreign Affairs, Duterte recalled how he opened the discussion of the West Philippine Sea with his Chinese counterpart.
"I told Xi Jinping that, 'I come here to talk about purchasing of arms, but on the sides maybe if we can discuss about our claim in the West Philippine Sea,'" Duterte said.
Duterte said that he told Xi that the Philippines has always had an outpost in the area since 1974, referring to Pag-asa Island which the Philippine marines occupied in that year.
He added that nobody contested the Philippines' claims in the West Philippine Sea until the "ruckus" with the United States.
"Now I said that it is my firm belief that we own China Sea. And I will go there to dig oil. I told it straight in the face of Mr. Xi Jinping," Duterte said.
"I said, 'That is ours, I will get oil there.' And so we were dragged into a long process. It was about three hours — just talked about peace, talking about security and everything," he added.
Last year, Duterte claimed that Xi threatened to go to war if he would force the issue after raising the arbitral ruling with his Chinese counterpart.
This time, the Philippine leader claims Xi told him, "it's too early to go into trouble for after all your visit here is a sign that you want good will to prevail."
Duterte then proceeded to talk about arms with Xi as he had been reading intelligence reports in Mindanao.
The president noted that the Philippine troops' weapons were "old and beaten ones, used several times."
"You know those rifles vintage if you may want to call it. So I need to replenish and I was thinking about Marawi already. Without meaning to be discorteous to our military men," the president.
It should be recalled that the first meeting of Duterte and Xi, which he was talking about in this speech, was in October 2016 while the Marawi siege broke off in May 2017. If so, this means that the president was aware of the plans of ISIS-inspired local terrorists as early as six months before the Maute group took control of Marawi City last year.
"Not prophetic because I come from Mindanao. I have my cousins there in Lanao del Sur and they were texting me already what was happening and they said that those who would want to fight in the name of ideology that is so corrupt and bankrupt," Duterte said.
Duterte said that this was the reason why he went to China to buy arms.
"So I went there to buy arms. And after that long talk of almost three hours in a bilateral meeting, Mr. Xi Jinping said, 'It's okay. You do not have to buy. I'll give you the arms free,'" Duterte said.
The president then said that he decided to acquire more arms so he went to Moscow. Duterte was in Russia when the conflict in Marawi City broke out in May 23, 2017, resulting to the declaration of martial law in Mindanao.
In his previous speeches, Duterte has always been grateful to China for providing military assistance for the clearing operations in Marawi City.
Duterte claimed that "it was only China who gave it on time and plenty."