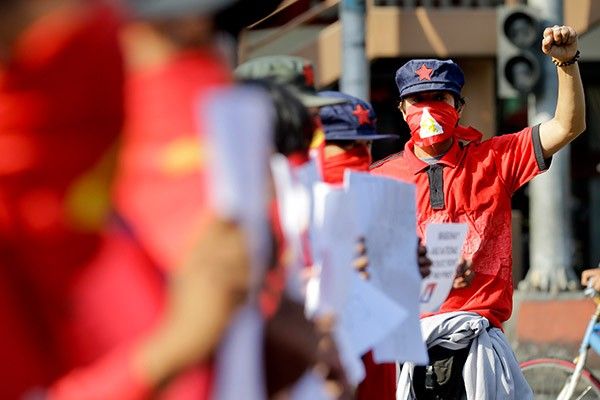 In this March 28, 2018 photo, masked protesters hold slogans and raise their clenched fists during a rally to commemorate the 49th anniversary of the New People's Army, the armed wing of the Communist Party of the Philippines, near the Malacanang presidential palace in Manila, Philippines.
AP/Aaron Favila
Talks with Reds won't push through as announced — Dureza
MANILA, Philippines — The supposed resumption of the peace negotiations between the government and the communist rebels will not push through, the presidential adviser on the peace process said Thursday.
Jesus Dureza made the announcement days after National Democratic Front of the Philippines chief political consultant Jose Maria Sison announced that the government and the rebels will resume the stalled negotiations between the two parties on June 28 to 30 in Oslo, Norway.
Last week, President Rodrigo Duterte said the talks with the communist insurgents may resume in July.
"The scheduled supposed resumption of talks that have been earlier subject of discussions by our backchannel will not happen as originally set and announced in the media," the peace adviser said.
Dureza stressed that the supposed resumption of the talks will not push through because the government wants to inform and engage the public first.
"There is a need to engage the public more and get their support before we are able to work out certain agreements with the leaders of the Communist Party of the Philippines," he said.
He added: "Engaging the bigger public will be the priority."
The peace adviser reiterated that an "enabling environment" would convince the government to go back to the negotiating table.
"An enabling environment that is conducive to resumption and going to a final peace agreement, then we will do everything to push it forward," he said.
The communist rebels and the Norwegian government, which facilitates the talks, have already been informed of the Philippine government's decision.
Last November, Duterte formally terminated peace talks with the rebels and then went on to declare the CPP and its armed wing, the New People's Army, as terror bodies.
But in recent speeches, the chief executive expressed his openness to give another "last chance" for peace with the communist insurgents and even offered Sison, who has been living in exile in the Netherlands since 1987, to come home.