Duterte hits priests; Palace says slays aim to divide nation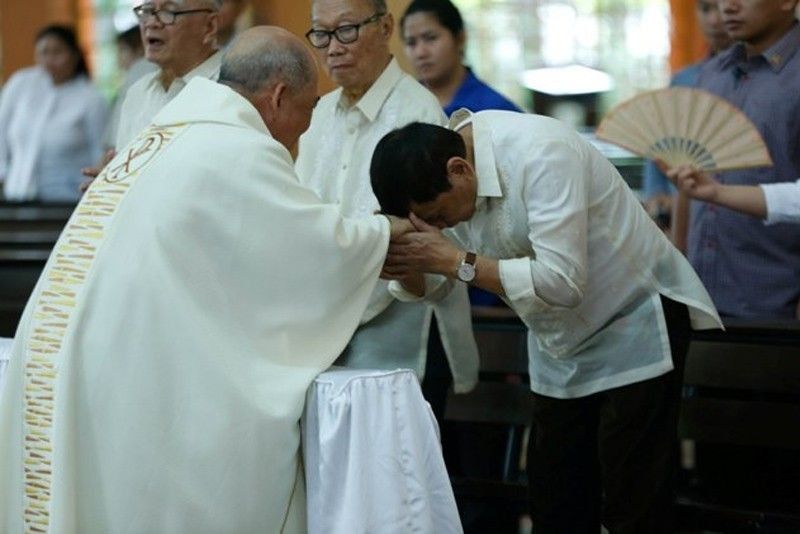 MANILA, Philippines — President Duterte yesterday continued his tirades against priests, stressing they were no different from him when it came to fondness for women.
"There are no priests here? Because what I read was 'stop persecuting priests,'" Duterte said, addressing newly promoted officials of the police, fire and jail departments in Malacañang last night.
He vowed to bare the matrix on why some of the priests were killed, prompting bishops to call on the Chief Executive to stop attacks against the Catholic faith.
With three priests murdered in six months, presidential spokesman Harry Roque Jr. said there is an attempt by lawless elements to sow divisiveness between the Duterte administration and the Catholic church.
"In this nationwide drive, lawless elements will seek to block our efforts by sowing division and creating animosity, even "In this nationwide drive, lawless elements will seek to block our efforts by sowing division and creating animosity, even exploiting crimes like the killing of priests," Roque said.
President Duterte has ordered the Philippine National Police (PNP) to investigate the killing of Fr. Richmond Nilo in Nueva Ecija last Sunday, but affirmed that he will be eternally at odds with Catholic priests.
"Is there a priest here? I would have wanted to pray first… None? Because, the priests, we are eternally at odds with each other," Duterte said a day after bishops decried his attacks against Catholic priests in his speeches.
In a speech after the signing of memorandum of agreement between the Commission on Higher Education and 112 state universities and colleges for the implementation of the Free Education Law yesterday, the President explained his views against the Catholic faith.
"(Although) I am or has been or have had a good Christian education, when I entered the government service, I had a paradigm shift," said the President, who attended school at Ateneo de Davao University and later San Beda College, where he finished his law studies.
Duterte cited for example his stand against birth control, which is against the teachings of the Catholic church that is not in favor of the use of contraceptives and abortifacients.
"We are trying to control Filipinos by not really imposing any abortion or any whatever that destroys the human life in the womb of the mother. But the population is so big," the Chief Executive added.
The President's statement came after Lingayen-Dagupan Archbishop Socrates Villegas and other bishops issued a statement condemning the killings of priests. They also claimed that Duterte's verbal attacks against Catholic priests have emboldened criminals.
Duterte has criticized Catholic priests many times during his speeches here and abroad. He has also jokingly urged his supporters to join him once he forms a new religion which he calls "Iglesia ni Rodrigo."
Villegas and other bishops have condemned the murder of priests.
"They are killing our flock. They are killing us shepherds. They are killing our faith. They are cursing our church. They are killing God again as they did in Calvary," the bishops' statement read.
They also called on Duterte "to stop the verbal persecution of the Catholic church because such attacks can wittingly embolden more crimes against priests."
Nilo is the third Catholic priest killed since the murder of Fr. Mark Ventura in Cagayan last April 29 and Fr. Marcelito Paez, also in Nueva Ecija, last Dec. 5.
Bayombong Bishop Jose Elmer Mangalinao and other officials of the Archdiocese of Lingayen-Dagupan signed the manifesto condemning the killings.
Meanwhile, the Senate is set to investigate the spate of killings of Catholic priests in the country that opposition lawmakers said were triggered by President Duterte's attacks on the clergy.
Conducting the inquiry will be the Senate committee on public order and dangerous drugs, chaired by Sen. Panfilo Lacson.
The probe was prompted by a resolution filed by Sen. Risa Hontiveros, who warned that there appears to be a "dangerous pattern" emerging with the spate of killings and attempted killings of Catholic priests.
"Is there a systematic attempt to kill Catholic priests who are critical of the administration?" Hontiveros said, adding that the killings came on the heels of continued verbal attacks of Duterte on the Catholic church and its leaders, following criticisms of the administration's war on drugs.
Hontiveros said Duterte publicly disparaged Ventura even after he was killed.
As this developed, PNP chief Director General Oscar Albayalde has expressed his sympathies to Bishop Sofronio Bancud and the entire Diocese of Nueva Ecija.
He also briefed the bishop on the status of the investigation of the killing of Nilo in Zaragoza, Nueva Ecija.
Earlier, Albayalde ordered Central Luzon police director Chief Supt. Amado Corpus to solve Nilo's case "as soon as possible" and that of Paez, who was killed while driving in Jaen.
Corpus said closed-circuit television cameras caught on video three more people who likely acted as lookouts in Nilo's killing. – With Cecille Suerte Felipe, Emmanuel Tupas, Romina Cabrera, Edu Punay, Paolo Romero