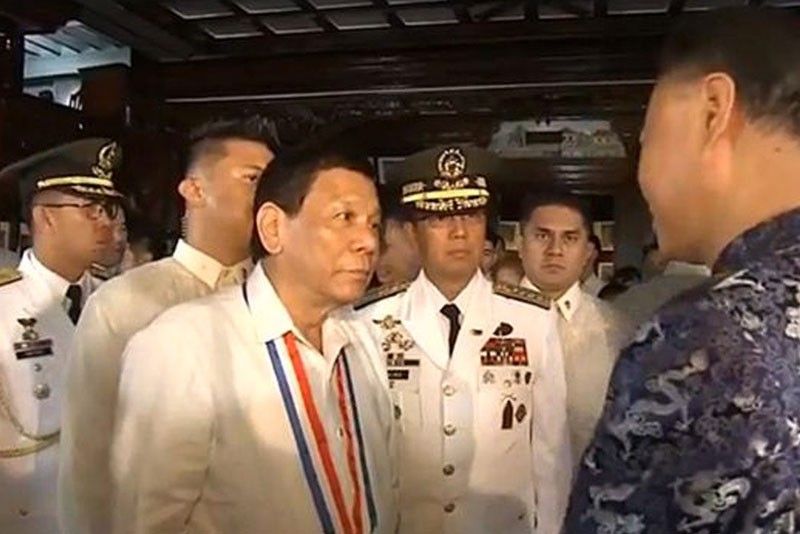 President Duterte speaks with Chinese Ambassador Zhao Jianhua during the Independence Day celebration at the Aguinaldo Shrine yesterday in this image taken from Malacañang video.
Duterte airs concern over fishermen's plight
KAWIT, Cavite, Philippines — President Duterte yesterday conveyed to Chinese Ambassador Zhao Jianhua his concern over the reported seizure of Filipino fishermen's catch by Chinese coast guards at the Panatag (Scarborough) Shoal.
It was Zhao who confirmed Duterte's relaying his concern, in a brief chat, on the sidelines of the celebration of the 120th anniversary of Philippine Independence at the Aguinaldo shrine here. Duterte was seen talking with Zhao for a few minutes. He also interacted with other diplomats and officials after the ceremonies.
"President Duterte shared his concern about the Filipino fishermen. I remember even before he took office, he raised concern and now he took office, China and the Philippines, under the guidance of the Presidents of both countries, reached a friendly arrangement which allows the Filipino fishermen to go back to the waters near Scarborough," he said.
"Fishermen are fishing there. This arrangement has not changed and will not be changed," he added.
Zhao said the Chinese government would investigate reports that Chinese coast guards were confiscating the best catch of Filipinos at the Panatag Shoal.
He claimed China does not allow its coast guard to take anything from Filipino fishermen.
"I have noted this complaint by the Filipino fishermen. But rest assured we are conducting a responsible investigation," Zhao said.
"If the media report is somewhat true, let's view it as an isolated incident. It should not reflect the whole picture of the bilateral relationship and should not reflect the whole arrangement with regard to the fishing in the waters around Huangyan or Scarborough," he added, referring to Panatag by its Chinese and international names.
Zhao stressed erring Chinese coast guard personnel would be punished because China does not allow them to do "anything that is harmful to Filipino fishermen."
"If the alleged report of Chinese coast guards illegally or forcefully taking the catch of Filipino fishermen is true, let me say in English there is a saying, 'Even in the best regulated families, accidents happen,'" the diplomat said.
"So we always have bad apples but if we have bad apples, you know what I'm going to do, I'm going to throw into the South China Sea and feed the fish," he said.
On Monday, Filipino fishermen confirmed that China is in control of Panatag Shoal, a traditional fishing ground off Zambales. The shoal is well within the Philippines' exclusive economic zone.
China's occupation of the area began in 2012 when its surveillance vessels prevented the Philippine Navy from arresting Chinese poachers who were about to sail away with their harvest of endangered marine species.
Fisherman Romel Cejuela told Palace reporters on Monday that they were being forced by Chinese coast guards to surrender sizeable portions of their best catch.
The Chinese would give them noodles, cigarettes and water in exchange.
But Zhao said based on the statements of fishermen, what transpired was barter trade and not harassment.
"Whether (the fish was) forcefully taken or (whether there was) harassment, it's really up to the investigation. I'm sure you have noted the Filipino sides' remarks... From the remarks, I can see that it's primarily barter trade if you may call it," the Chinese ambassador said.
Asked to react to claims that large boats were not being allowed to enter the shoal, Zhao said it was part of efforts to protect the marine resources in the area.
"I think it's a mutual understanding. Both sides will only allow fishermen to go there. Up until now, we do not encourage commercial fishing, the large giant fishing vessels there because we also have a responsibility to protect the species of the fish and also the environment there," Zhao said.
Before the start of the Independence Day rites, Zhao was also seen talking to Defense Secretary Delfin Lorenzana by the window of the Aguinaldo mansion.
The defense chief was seen pointing fingers at the Chinese diplomat several times during their conversation.
Zhao declined to reveal details of the conversation with the defense chief, saying they were "confidential."
In a text message, Lorenzana said he and Zhao talked about the concerns of Filipino fishermen at Panatag Shoal.
"We discussed the Filipino fishermen's complaint that the Chinese Coast Guard is getting their catch. He said they are investigating," Lorenzana said.
Asked about his hand gestures during the conversation, Lorenzana said: "Pakita rin ng konting inis (just a little show of irritation)."
After facing Palace reporters last Monday to relate their plight, the fishermen involved in an incident with the Chinese at Panatag Shoal would also have to show up before the Philippine Coast Guard, which wanted to get their stories in detail.
"These people (fishermen) who were seen on television, we are looking for them because we need to ask more information, need to ask for more details. We cannot interpret (the incident) based on what we heard and saw on the television report alone," PCG National Capital Region-Central Luzon (NCR-CL) district commander Captain Rolando Punzalan said yesterday.
Punzalan, who assumed the NCR-CL post only last Friday, said that he had already instructed PCG's Subic Bay station to locate the Filipino fishermen.
"These fishermen are not part of an association. They are independent fishermen and it would be very difficult to look for people because they are not organized," he said.
"These fishermen did not present themselves to the Coast Guard, that is why we have to reach out to them," Punzalan said.
What the Subic station has on record is the assistance given by the Chinese coast guards to Filipino fishermen in distress last April 25.
The incident involved a 15.5 gross ton-fishing boat based in Calapandayan, Subic, Zambales and skippered by 38-year-old Renato Etac of Infanta, Pangasinan.
Based on initial information provided by the PCG, the cooling pipe of the fishing boat got damaged, causing water to seep into the boat. – With Paolo Romero, Evelyn Macairan
Related video: