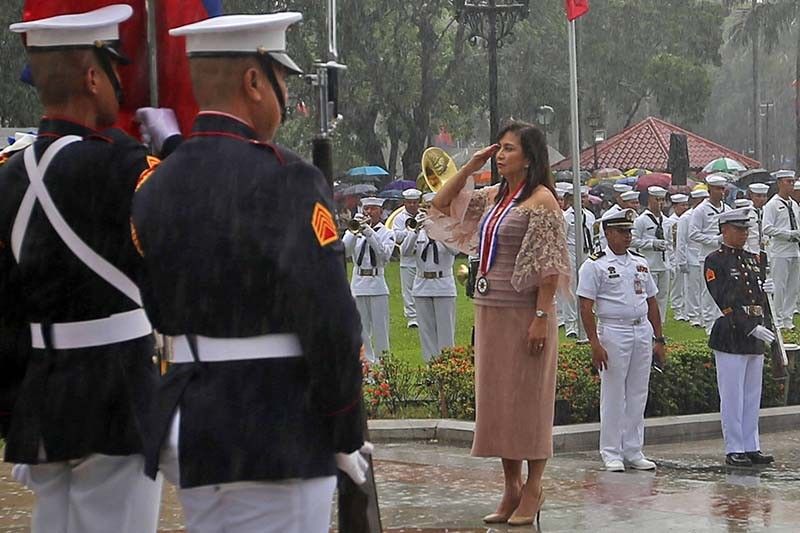 Vice President Leni Robredo led the Independence Day rites at the Luneta Park on June 12.
The STAR/Edd Gumban
Robredo: Filipinos' freedom faces threats
MANILA, Philippines — The freedom Filipinos enjoy today is facing different threats, Vice President Leni Robredo remarked on Tuesday.
Robredo led the Independence Day rites at the Luneta Park on Tuesday. Amid downpour, Robredo laid wreath at the Rizal monument.
President Rodrigo Duterte, meanwhile, led the celebrations at Kawit, Cavite and delivered his first Independence Day speech in his second year of presidency.
READ: Duterte's first Independence Day speech met with protest
In her Independence Day message, the vice president said in Filipino: "At this time, it is as if our sovereignty is facing many faces of threats: From the spread of poverty, rising prices of goods and the lack of justice; from the disregard of human rights to foreign invaders' claims on our territory."
A report earlier this week showed Filipino fishermen being threatened by Chinese coast guard personnel and being robbed of their hard-earned bounty—an incident downplayed by the Malacañang as presidential spokesperson Harry Roque said noodles and cigarettes were given in exchange of their catch.
RELATED: Chinese coast guard continue to harass Filipino fishermen in Scarborough — report | Palace: Harassment of Filipino fishermen not China's official policy
But the vice president remained optimistic, challenging her countrymen to fight back.
She said: "In the face of all these, the Filipino I know will fight back. Instead, the Filipino I know will stand with all his might to fight for our liberty."
"In the commemoration of this day, may each of us gain renewed strength to embody the ideals fought for by our heroes—the hopes for, and the building of, a nation truly strengthening the liberty of each Filipino," Robredo urged.
Related video: