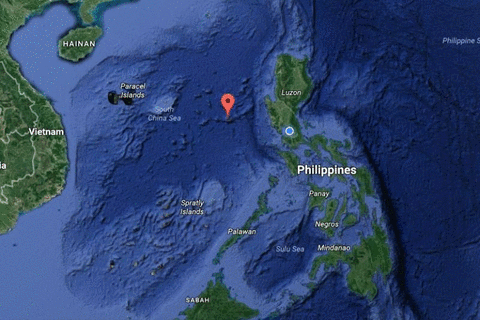 Scarborough Shoal, Bajo de Masinloc or Panatag Shoal, is a traditional common fishing ground located 120 nautical miles from Zambales. Google Maps
China seems in control of Panatag, Filipino fisherman says
(Philstar.com) - June 11, 2018 - 9:13pm
MANILA, Philippines — China is in control of the Panatag (Scarborough) Shoal and Chinese Coast Guard personnel have been taking the best catch of Filipinos in the area, a fisherman confirmed Monday.
Fisherman Romel Cejuela, told Palace reporters that Chinese Coast Guard personnel have been forcibly taking the best catch from Filipinos allowed to enter the shoal.
"Titingnan na nila iyong mga lagayan namin, iyon na pipiliin nila iyong magagandang isda. Wala naman kami magagawa (They will look at our containers and choose the good quality fishes. We cannot do anything)," Cejuela said in a press briefing organized by presidential spokesman Harry Roque.
"Nakikisama lang muna kami diyan ngayon, dahil andiyan iyong mga barko nilang malalaki, eh ano ang magagawa naming mangingisda doon kung magtitigas-tigasin kami doon, di para lang kaming anong doon, iyong lata na pinitpit (We are just getting along with them. Their ships are huge. What can we do as fishermen? If we refuse to yield, we will end up like crushed cans)," he added.
Cejuela said Chinese Coast Guard personnel give them noodles, cigarettes and water in exchange for their catch but these are not enough to feed the families of fishermen.
"Medyo mabigat sa kalooban mo. Pero pilit mong tanggapin iyon dahil...sila ang parang may power ngayon diyan (I am really against it but I have to accept it. They are the ones in power there)," he added.
Asked who he thinks is in control of the Panatag Shoal, Cejuela replied: "Sa tingin ko ngayon, parang Tsina pa rin (I think it's still China)."
Cejuela said only small boats are allowed to enter the shoal but not the big vessels. He could not say why.
Panatag Shoal
Located 124 nautical miles from the nearest point in Zambales, the Panatag Shoal, also known as Bajo de Masinloc, is a traditional fishing area for local fishermen. It is well within the Philippines' 200-nautical mile exclusive economic zone.
China started occupying the shoal on April 10, 2012, when surveillance ships from Beijing prevented the Philippine Navy from arresting Chinese poachers who had harvested endangered marine species. The Philippines under President Benigno Aquino III filed diplomatic protests over the incident but was ignored by China.
Months after Duterte assumed office in 2016, officials said China had allowed Filipinos to fish in the shoal because of improved ties between Manila and Beijing.
The condition of Filipinos in the area, however, were thrust into the spotlight anew last week after a video showing members of the Chinese Coast Guard taking away the catch of local fishermen circulated online. Roque said the incident happened last month.
No harassment?
While Chinese Coast Guard personnel are seizing their best catch, Cejuela does not consider the act as a form of harassment. He said the Chinese were insistent on getting the fish and that there was a language barrier between them.
"Nakikisama na lang kami sa kanila kasi baka paalisin na naman kami kapag hindi namin pagbigyan sila na kukuha ng isda (We are just getting along with them. They might drive us away again if we refuse to give them our catch)," he added.
Cejuela said the latest incident of harassment happened in December, when some Filipinos lost a "pana", or dart gun, to the Chinese.
"Inagawan sila ng pana, may dala silang sandata noon, pero hindi naman sila tinutukan (The Chinese took away their "pana". The Chinese had weapons but they did not point the weapons at the Filipinos)," he said.
A reporter asked Cejuela to elaborate on the incident but Roque stopped him, saying the question had been answered.
Cejuela urged media not to sensationalize reports about the Panatag Shoal as he expressed fears that China might bar Filipinos again from fishing in the area.
Roque: Situation better under Duterte
Roque said the actions of the Chinese Coast Guard was "unacceptable" but insisted that the conditions of Filipinos in Panatag Shoal are better than during the time of the previous administration. He claimed that the Philippines has already informed China about the harassment of Filipino fishermen last December.
"We cannot accept this situation. We will fight for the rights of our fishermen because we have an agreement (with China). We expect China to comply with the agreement. They (Chinese Coast Guard) should not seize even a kilo of fish (from Filipino fishermen)," Roque said.
"But the fishermen said our policy, which involves talking with China, is better because it allowed them to fish again (in the shoal)," he added.
Throughout the briefing, Roque kept on repeating that Filipinos can now fish in the shoal because of the Duterte administration's move to seek warmer ties with China.
He said China had refused to leave the Panatag Shoal after Aquino deployed Navy ship BRP Gregorio del Pilar to the area. The Del Pilar was later replaced by a Philippine Coast Guard vessel, which was also recalled because of bad weather in the area.
"The Chinese are there but the fishermen from Masinloc and other areas are now allowed to fish," he added.
Asked if Filipino fishermen deserve better, Roque replied: "Of course they deserve better, that's why we are taking steps to address the issue with the Chinese. We have addressed this issue to the Chinese and we are demanding that the Chinese take steps to stop the Coast Guard from doing these acts." — Alexis Romero
Related video: