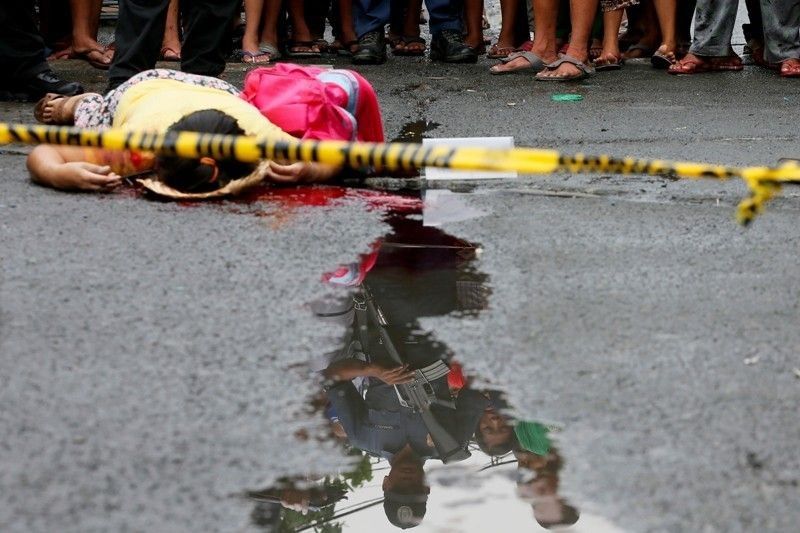 In this Dec. 8, 2016 photo, people and a policeman looking at the body of a woman, later identified by her husband as that of Nora Acielo, still clutching the school bag of her child, are reflected in a pool of water after she was shot by still unidentified men while walking with her two children to school at a poor neighborhood in Manila, Philippines.
AP/Bullit Marquez
HRW: Promotion of police officers sacked after Kian slay insult drug war victims
MANILA, Philippines — Human Rights Watch slammed the promotions of senior police officers who, it said, supervised units implicated in scores of killings linked to the government's ferocious war on drugs.
HRW said the promotions of Senior Supt. Chito Bersaluna—sacked police chief of Caloocan City—as Bulacan province's top cop and Chief Supt. Roberto Fajardo—sacked chief of Northern Police District, which includes Caloocan City—as chief of the Philippine National Police Highway Patrol insult drug war victims.
"The high-level promotions of two senior police officers who oversaw of the drug war's bloodiest locales are a cruel affront to the families of victims," the rights group said Friday.
The move underscores the importance of an International Criminal Court preliminary examination into the killings and the need for a parallel United Nations probe to ensure accountability for those deaths, HRW added.
Bersaluna and Fajardo were both sacked after cops under them killed 17-year-old Kian Delos Santos in August last year. The former NPD chief even defended the actions of the police, accusing the schoolboy of being a drug runner.
Caloocan police also allegedly killed 14-year-old Reynaldo De Guzman and 19-year-old Carl Arnaiz.
The deaths of the three teenagers fueled outrage against President Rodrigo Duterte's bloody anti-narcotics campaign.
"Delos Santos and De Guzman were just two of dozens of children killed by the police and their agents in the Philippines as part of Duterte's nearly two-year anti-drug campaign. Senior police officials have dismissed the deaths of children as 'collateral damage' in the drug war," HRW said.
Last January, The Department of Justice indicted three members of the Caloocan City police for the murder of Delos Santos.
DOJ last month re-filed the double murder case of Arnaiz and De Guzman against two cops.
However, neither Bersaluna nor Fajardo have been charged in connection with the killings of the three teenagers.
As It Happens
LATEST UPDATE: November 29, 2019 - 4:54pm
Reuters wins Pulitzers, the most prestigious awards in American journalism, in international reporting for its story on the methods of police killing squads in President Rodrigo Duterte's war on drugs and for feature photography documenting the Rohingya refugee crisis in Myanmar and Bangladesh.
In covering the deadly drug war in the Philippines, Reuters reporters Clare Baldwin, Andrew R.C. Marshall and Manuel Mogato "demonstrated how police in the president's 'drug war' have killed with impunity and consistently been shielded from prosecution," Reuters Editor-in-Chief Stephen J. Adler says.
November 29, 2019 - 4:54pm
Detained Sen. Leila de Lima says the "success" of President Rodrigo Duterte's drug war can never be measured by his "mere boasts that he has dumped bodies in Manila Bay and the Cordilleras."
"How do we know that they were really drug lords if there was no trial to establish their guilt?" De Lima asks.
"Drug lords or not, they were human beings. And to kill a human being is the greatest crime of all. There are no ifs or buts about this," the senator adds.
November 27, 2019 - 7:45am
PNP officer-in-charge Lt. Gen. Archie Gamboa says P2.5 billion worth of shabu was seized from a Chinese national in Makati City. — The STAR/Manny Tupas
November 6, 2019 - 1:32pm
Vice President Leni Robredo has accepted President Rodrigo Duterte's offer to be the co-chair of the Inter-Agency Committee on Anti-Illegal Drugs, a designation announced by the Palace on Tuesday.
Acknowledging that there are concerns that the designation is an attempt to pass on the perceived failure of the "war on drugs" so far and an attempt to keep her from criticizing the government's policy on drugs, Robredo says in Filipino that "if this is a chance to stop the killing of innocents and to hold accountable those who must be held accountable, I will take it on."
"I accept the task that the president has given me."
November 6, 2019 - 8:35am
Erin Tañada, Liberal Party vice president for external affairs, says that President Rodrigo Duterte's move to formally name Vice President Leni Robredo as one of the heads of an inter-agency body on illegal drugs is an admission that he failed to fulfill his campaign promise.
Robredo would not allow to be an instrument of the bloody drug war, according to Tañada.
"Kaya hindi tatanggapin ni VP Leni ang alok na pumatay para sa huwad na war on drugs. Hindi war on drugs ang nangyayari, kundi war on the poor," the LP official says.
November 5, 2019 - 6:25pm
Vice President Leni Robredo is not yet a member of the Inter-Agency Committee on Anti-Illegal Drugs despite a letter from Executive Secretary Salvador Medialdea designating her as co-chair of the panel, her spokesperson says Tuesday.
"Tomorrow she will be presenting to the president her proposals," her spokesperson Barry Gutierrez says in a press briefing, adding Robredo is focused on what she will present to President Rodrigo Duterte, who challenged her to take over the "war on drugs" in response to her comments that the campaign may need to be reassessed and "tweaked."
He says Robredo will be presenting the proposals "directly as vice president," adding the position of co-chair of the ICAD might not even exist.
Executive Order No. 15, issued in 2007, names the Philippine Drug Enforcement Agency as the chair of the ICAD. There is no provision in the EO for a co-chair.
Gutierrez says a serious offer would have, for example, an actual position and the letter of designation would include specific powers and authority of the position.
The vice president's spokesperson said the move seems to be an "[attempt] to pass on the failures of the past three and a half years to the vice president."