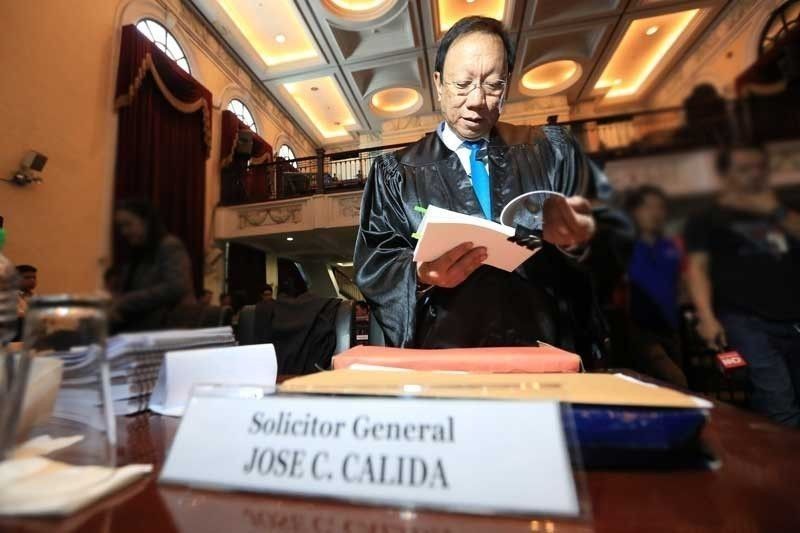 Based on the COA annual audit report posted on its website on Thursday, Calida and 14 other lawyers under the OSG received excessive honoraria and allowances for the legal services and advice rendered to client agencies.
Miguel de Guzman/File
COA flags P10 million excess allowances paid to OSG
MANILA, Philippines — The Commission on Audit (COA) has flagged the Office of the Solicitor General (OSG) for granting P10.774 million in excess honoraria and allowances to its officials, including Solicitor General Jose Calida, last year.
Based on the COA annual audit report posted on its website on Thursday, Calida and 14 other lawyers under the OSG received excessive honoraria and allowances for the legal services and advice rendered to client agencies.
The audit body said the OSG officials violated COA Circular 85-25-E of April 25, 1985, which states that payment of services, incentives, remunerations, honoraria and all other extra compensations to government officials and employees "shall not exceed 50 percent of their annual basic salary."
In the audit report, Calida is shown to have received P8.376 million in honoraria or allowances in 2017, of which P7.462 million is considered "excess" or above the limit of 50 percent of his annual basic salary of P1.828 million.
Also named with corresponding excesses in the COA report were Renan Ramos (P837,252); Henry Angeles (P697,039); James Cundangan (P448,707); Raymund Rigodon (P363,894); Ma. Antonia Edita Dizon (P273,746); Perfecto Adelfo Chua Cheng (P158,501); Bernard Hernandez (P136,814); John Dale Ballinan (P99,026); Lilian Abenojar (P90,626); Leney Layug-Delfin (P70,626); Herman Cimafranca (P62,454); Danilo Leyva (P50,051); Gift Mohametano (P13,739) and Rex Bernardo Pascual (P9,394).
The COA said that while Republic Act 9417 or An Act Further Strengthening the OSG allows the staff and lawyers of the agency to receive honoraria and allowances from client departments, agencies and government instrumentalities, these must comply with the limitations set by the 1985 circular.
To stress its point, it noted the 16 notices of disallowance – still on appeal before the COA central office – in February 2014, August 2016 and January 2018 against the grant of excess allowances to some OSG officials.
"Pending resolution from the Commission on Audit, the OSG officers and employees who rendered legal services and advises to client agencies should have collected only the amount of up to 50 percent of their basic salary," the COA said.
Making matters worse, the COA noted, is the direct remittance of allowances to the OSG lawyers and the failure to report these, despite a department order, to the Financial Management Service for taxation purposes.
Based on COA records, at least four client agencies directly paid the OSG lawyers in 2017 – Development Bank of the Philippines (P1.6 million), Occidental Mindoro State College (P148,500), Central Bank Board of Liquidators (P123,675) and Department of National Defense (P480,000).
"Confirmation with Accounting Division disclosed that the allowances were not reported by the OSG lawyers to the FMS division, contrary to OSG Office Order No. D-188 series of 2009 dated September 2009," the COA report read.
"The failure of the OSG employees to report the allowances directly given to them by client agencies provides no assurance that the correct taxes were indeed withheld or no taxes were withheld at all," it added.
The COA report shows that of the total of P8,376,360 honoraria/allowances received by Calida last year, P1,524,066 was directly paid to him by client agencies.
In 2016, COA said Calida got excess allowances of P1.123 million in six months after assuming office while his predecessor, Florin Hilbay, also got P4.662 million in six months before stepping down. Calida became solicitor general on June 30, 2016.
Calida and Hilbay's basic salary for 2016 only amounted to P702,516, the report pointed out. Based on this, COA said they should only be receiving up to P351,258 in allowances. Records show that for 2016, Calida and Hilbay received P1.475 million and P5.103 million in honoraria/allowances, respectively.
Just like in 2016, the OSG management in its reply letter to the 2017 audit report reiterated that the COA "has no authority" to issue an order setting a limit on allowances of government officials and employees as it is not among the audit body's functions and mandate under the Constitution.
The OSG management further said that under Executive Order 292 of 1987, OSG lawyers are authorized "to receive allowances and honoraria for the legal services they render without qualification, in addition to their regular compensation."
The OSG said both the EO 292 and the RA 9417 have already repealed COA Circular 85-25-E of 1985.