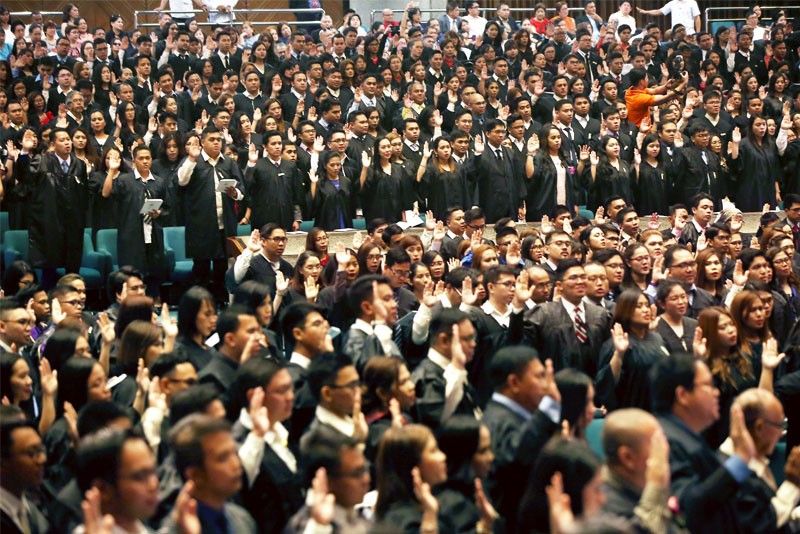 Passers of the 2017 Bar take their oath before Supreme Court justices during a ceremony at the Philippine International Convention Center in Pasay City yesterday. A total of 1,724 took their oath as new lawyers.
Miguel de Guzman
SC justice warns Bar passers: Court critics may be disbarred
MANILA, Philippines — It's a piece of advice – or a warning – from an elder to the more than 1,700 new lawyers who took their oath yesterday: be careful when criticizing the courts or you may get disbarred.
Supreme Court (SC) Associate Justice Lucas Bersamin shared his thoughts in a speech before new lawyers who took their oath at the Plenary Hall of the Philippine International Convention Center in Pasay City.
At the same gathering, SC Associate Justice Teresita Leonardo-de Castro cautioned the new lawyers not to be consumed by ambition or they would witness their careers crumble.
Bersamin, chairman of the 2017 Committee on Bar Examinations, said that of the three co-equal branches of government, only the executive and the legislative have elected officials. Members of the judiciary, he emphasized, are unelected.
He called on the new lawyers to defend the institution of the courts and the duly constituted authorities when faced with public outcry over unpopular but prudent rulings.
He stressed there are mechanisms for holding justices and judges accountable for misguided or brazenly defective decisions.
For lawyers who join public demands to disrespect the courts and their rulings, they should do some rethinking or else they might become unworthy of the Lawyer's Oath.
"If that happens, you would thereby assault the Judiciary of which you are but its mere officers. You should first turn in your certificates of admission to the Bar issued by the Supreme Court before imposing yourselves upon the standing constitutional system," Bersamin said.
He clarified that he was not saying that they could not criticize the SC or the lower courts because it is still their right as citizens to call the courts' attention to possible mistakes or errors. "Judicial guidelines of when and how to criticize the courts, particularly the Supreme Court, are clear. Consult those guidelines before you lose your privilege of membership in the Bar," he stressed.
While there was not much fanfare or shouting at yesterday's oath-taking ceremony, some of the new lawyers were seen wearing a purple ribbon around their wrist.
Last week, Bersamin issued a notice pertaining to the proper behavior in the oath-taking ceremony.
Quick rise, steep fall
De Castro, for her part, warned the new lawyers against resorting to shortcuts to achieve their goals. "Those who rise too fast often fall just as quickly," she told them.
While she did not mention names, she was apparently referring to Maria Lourdes Sereno, who was ousted as chief justice by her fellow magistrates.
De Castro is due to retire in October after serving in government for 45 years.
"You will see it many times in your career, that those who rise too fast often fall just as quickly. As (Associate) Justice (Francis) Jardeleza said, the arrogance will always have a comeuppance, my wish is that none of you will fall to that kind of hubris," she said.