House OKs Bangsamoro Basic Law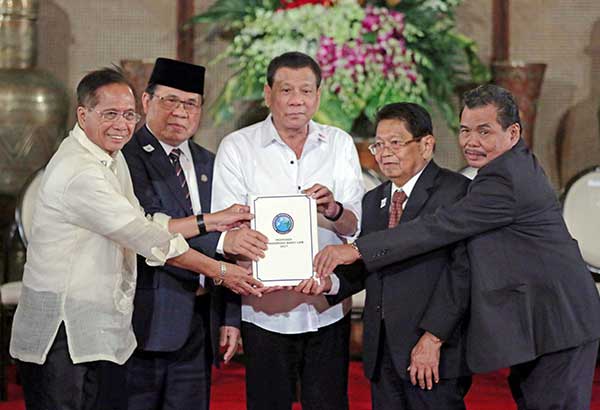 MANILA, Philippines — The House of Representatives on Wednesday approved a measure creating a new autonomous region for the Moro peoples, a historic achievement meant to bring decades-long conflict in the southern Philippines to a close.
The House approval of the law, which will create a replacement for the Autonomous Region in Muslim Mindanao with more powers while remaining part of the Philippines, followed President Rodrigo Duterte's move Tuesday to certify the bills at the House and the Senate urgent.

The Moro Islamic Liberation Front, the largest Muslim rebel group in the country, signed a peace deal with the administration of President Benigno Aquino III in 2014 to end decades of rebellion in the country's restive south which has killed more than a hundred thousand people and displaced millions.
The House, voting 227-11-2, approved the proposed Bangsamoro Basic Law on third and final reading.

The passage of the measure, officially known as the Bangsamoro Basic Law, was derailed after a raid on a remote town in Maguindanao by police special forces led to the death of more than 60 Filipinos, including 44 police commandos.

The death of the policemen plunged the Aquino administration into its worst political crisis and put to question the sincerity of the MILF rebels, some of whom participated in the fighting that led to the commandos' deaths. Panels that investigated the clash found that the operation had been hampered by poor planning and a failure to coordinate with the military and with the MILF, with which the government has a ceasefire agreement.

The House's version still needs to be reconciled with the draft of the bill coming from the Senate.

Once the two chambers agree on the final version, it will be sent to Duterte, who has strongly supported its measure, for his signature.

On different occasions, Duterte stressed the importance of the bill in attaining peace on the resource-rich island of 22 million.

He warned lawmakers that failure to pass the measure into law would fan extremism in Mindanao, which is already reeling from a five-month siege of Marawi City in Lanao del Sur by Islamic State-linked terrorists.

The measure will give Moros more political and economic power, but it still faces stiff challenges and questions over its constitutionality.