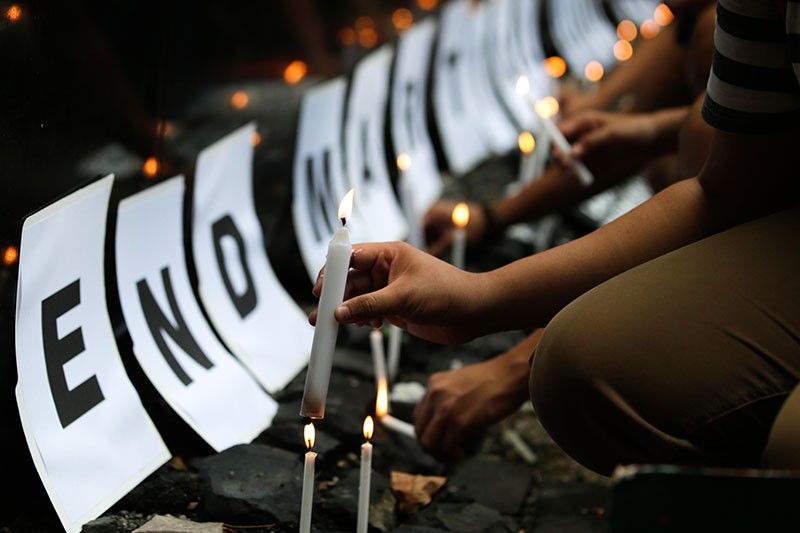 Student protesters light candles to call on the government to end martial law in Mindanao province as they mark the anniversary of the siege by Islamic State group-aligned militants of Marawi city in southern Philippines exactly a year ago Wednesday, May 23, 2018 in metropolitan Manila, Philippines.
AP/Aaron Favila
Rights group concerned over inclusion of 'lawless violence' as ground for martial law declaration
MANILA, Philippines — The proposed inclusion of "lawless violence" as one of the grounds for martial law declaration would be an easy vehicle to declare military rule nationwide, a rights group warned.
Karapatan called the move a "dangerous prelude to a nationwide declaration of martial law."
The Consultative Committee, tasked by the chief executive to review the current constitution, on Wednesday announced it has adopted "lawless violence" as a ground for declaration of martial law.
According to Con-com, "lawless violence" refers to "terrorism" and "violent extremism."
Article VII, Section 18 of the 1987 Constitution provides that the president may suspend the privilege of the writ of habeas corpus or place the Philippines under martial law for a period not exceeding 60 days "in case of invasion or rebellion."
"Aside from its dire implications on the ongoing peace processes with revolutionary movements, there is a great probability that the inclusion and subsequent interpretation of the proposed provisions will enable curtailment of basic rights and freedoms, denial of legal remedies and further establishment of military rule in the country," Karapatan said.
Communist Party of the Philippines founder Jose Maria Sison also slammed the move of Con-com.
"Within the so-called constitutional commission, there is the drive of certain pro-Duterte elements headed by a retired general to draw up a draft federal charter that makes easier the declaration of martial law by citing lawless violence or a series of offensives by the New People's Army as the basis for the declaration of martial law, Sison said.
Duterte declared martial law in Mindanao on May 23, 2017 in response to clashes in Marawi. It has been extended until Dec. 31, 2018 after the majority of Congress approved the chief executive's request.