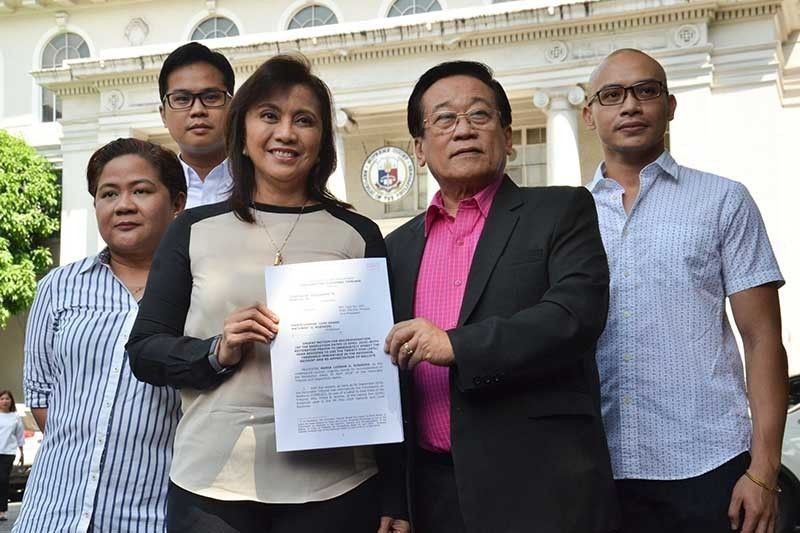 In this April 19, 2018 photo, Vice President Leni Robredo, flanked by her legal counsels Romulo Macalintal and Bernadette Sardillo, personally trooped to the Supreme Court, that sits as the PET, to file the motion for reconsideration on the 50-percent threshold rule.
Office of the Vice President/Released
Law groups urge use of 25% threshold in 2016 polls for VP recount
MANILA, Philippines — A coalition of lawyers' groups on Thursday expressed alarm over the decision to apply the 50-percent-threshold rule in the recount of votes in the electoral protest filed against Vice President Leni Robredo, saying this thwarts the will of the people.
In a statement, the Alternative Law Groups said that the 50-percent threshold was applied during the 2010 national and local elections but not during the 2016 polls, where a 25-percent-threshold rule was observed.
The group said that the decision of the Supreme Court, sitting as the Presidential Electoral Tribunal, to use the 50-percent threshold "thwarted" the will of the people and left Filipinos disenfranchised and divided by partisan politics.
"The Presidential Electoral Tribunal's decision to use an outdated shading threshold of 50 percent to determine the validity of votes in the electoral protest filed by Ferdinand Marcos Jr. against Vice-President Leni Robredo is both disappointing and alarming," the group said.
READ: Robredo supporters urge PET to apply 25% threshold on vote validity
Marcos is the only son and namesake of the late Philippine dictator who committed thievery and massive human rights abuses during his more than two decades in power.
The former senator is alleging that vote-counting machines were manipulated to favor Robredo, who was the candidate of the then ruling Liberal Party. The vice president has denied this allegation.
It stressed that the Commission on Elections amended the rule and applied the 25-percent threshold during the 2016 elections.
It said that the different rules for actual counting and the recounting of ballots went against the intent to "reasonably count" votes as they were cast.
"In ignoring the 25-percent threshold more recently applied by the COMELEC in the 2016 national and local elections, the PET invites questions on impartiality and credibility," the group said.
Last week, a group of law students urged the Office of the Solicitor General, representing the COMELEC, to uphold the 25-percent threshold utilized by the poll body in counting the votes during the 2016 elections.
In a letter addressed to Solicitor General Jose Calida, the law student leaders of Ateneo De Manila University warned that using the 50-percent threshold would lead to the disenfranchisement of voters.
Robredo has already filed a motion seeking to reverse the decision to use the 50-percent threshold.
The Alternative Law Groups stressed the importance of vigilance in the ongoing proceedings in the electoral protest of Marcos.
"Now more than ever, our democratic institutions must be protected. We appeal to the PET to fulfill its mandate as an objective and independent judge," it said.