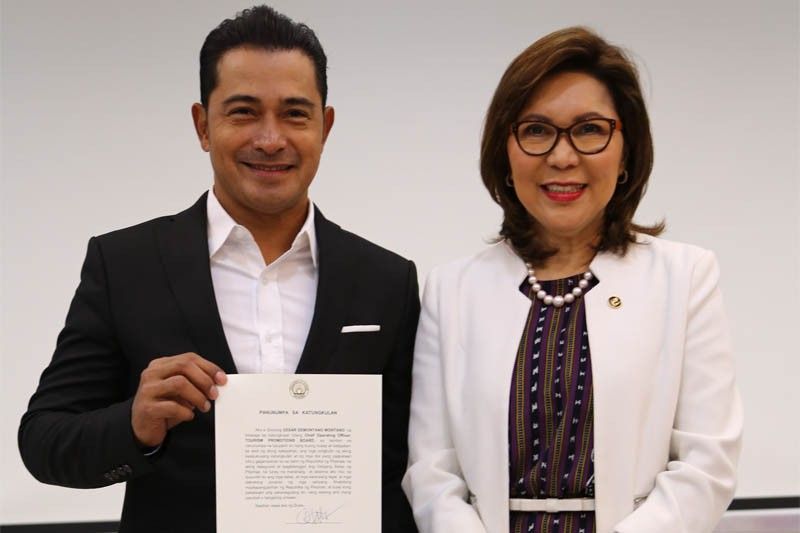 In this Dec. 20, 2016 photo, Tourism Secretary Wanda Teo swears in Cesar Montano as Tourism Promotions Board COO.
DOT/Released
Cesar Montano's US speech 'cut short', not 'rushed,' DOT chief says
MANILA, Philippines— Tourism Secretary Bernadette Romulo-Puyat on Thursday clarified that Tourism Promotions Board COO did not rush his speaking engagement in the United States.
Puyat said Montano detailed what happened at the speaking engagement in New York City during their meeting on Wednesday.
"His explanation is, it's not like he went in the event for two minutes and left," Puyat narrated Montano's response in Filipino and English in a press briefing.
The DOT chief said Montano said there was a presentation and an introduction and other programs during the event prior to his speech.
"Then he noticed that the audience got bored, so he cut his speech short," Puyat continued.
"To be fair, he has long been there," she added.
Puyat met with Montano and asked him to explain a report that he rushed through his speech so he could watch Broadway musical "Hamilton."
READ: Cesar Montano asked to explain 'rushed' US speech, 'Buhay Carinderia'
Asked if the TPB COO indeed watched the musical, Puyat said she did not ask. She also said she failed to ask who sponsored the trip to New York.
"I did not ask. Maybe it's best to just ask him," Puyat said.
On Tuesday, Puyat said she also wants to talk with the Tourism attaché and Department of Foreign Affairs officials at the event to verify the allegation.
Montano was reportedly supposed to showcase Philippine tourism and fashion at the Philippine Tourism Presentation and Dinner Reception in New York last May 9.