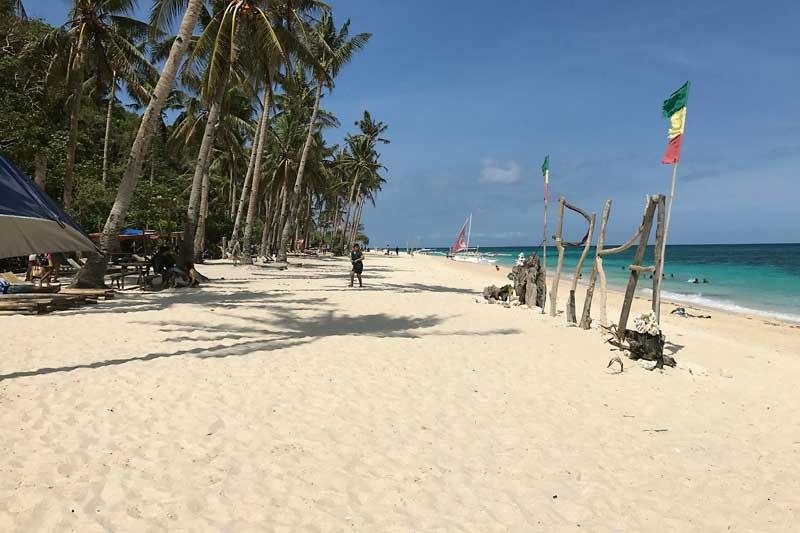 Tourists soak up the sun on Puka Beach in the northern part of Boracay yesterday. This stretch, devoid of any permanent structures, is considered by many as a swimmers' paradise.
Jennifer Rendon
Vista Land: Viral 'Boracay mountain' photos not from our project
(philstar.com) - May 16, 2018 - 7:57pm
MANILA, Philippines — Developer Vista Land & Lifescapes, Inc. said Wednesday that photos and video of a mountain allegedly being leveled on Boracay island are not of its Costa Vista Boracay project.
In an email, Vista Land chief legal counsel Ma. Nalen Rosero said that "as early as February this year, we have slowed down our development works, and have accordingly reduced the number of equipment and workers in the area."
No new construction is allowed on the island during the six-month closure for environmental rehabilitation.
RELATED: WATCH: Mountain being flattened in Boracay village amid rehabilitation
"At the outset, we wish to emphasize that we have complied with all applicable laws and regulations; and have obtained all requisite government permits and licenses, in connection with our development project in Boracay," Rosero stressed.
Vista Land was reacting to a news report showing a video of backhoe supposedly operating in an area in Barangay Yapak. The video, posted by Tourism Philippines, was submitted by a resident, who refused to be identified.
The description of the video indicated it was taken on May 11 and its location was between Eco-Village and the way to Shangrila, Barangay Yapak.
Other residents, who refused to be named, took to social media to complain and seek clarification on the leveling and clearing of the forest amid the island's closure.
"I am witnessing four trucks and a backhoe, working from morning to dusk ripping down the mountain and carting it away," a resident said.
Media access to Boracay has been restricted since the closure of the island.
Vista Land: Photos not from project site
"Significantly, the images appearing in the articles do not pertain to our project site," Rosero said.
"The area subject of our development is a developed resort with existing facilities. Moreover, it is our policy to respect and preserve the natural topography of the land. To do so is not only structurally sound but more importantly, environmentally friendly," she also said.
In an October 2016 report of The STAR, Costa Vista Boracay was described as a project that will include six residential towers, private villas, hotel, a pavilion with viewing deck, pool, convention center and a commercial quarter.
In an interview on ANC, Local Government Undersecretary Epimaco Densing III said authorities have yet to determine where the supposed activity is being done.
"The next part of the investigation is to find out if the activities were legal activities. The only unconfirmed lead we got was they were doing road pavement in the area.
There could be possible liabilities. Any forest tree-cutting, you need the permit from [Department of the Environment and Natural Resources]," he said in a phone-patch interview.
"We wish to assure the public that we are fully supportive of the government's efforts to rehabilitate Boracay," Vista Land, which is led by former Sen. Manny Villar, said.
Sen. Cynthia Villar, the former senator's wife, is chair of the Senate Committee on Environment and Natural Resources, which earlier conducted a probe into Boracay's environmental problems.
National democrat lawmakers at the House of Representatives have filed resolutions seeking a probe into Boracay's closure.
"There is really something ominous happening in Boracay that is why we filed House Resoution 1806 and House Resolution 1846 to dig deeper into the real reasons behind the island resort's closure and the displacement of more than 36,000 workers," Rep. Carlos Zarate (Bayan Muna party-list) said.
The resolutions were filed over reports that the Philippine Amusement and Gaming Corp. issued a provisional license to a Macau-based gaming firm and its local partner for a casino project on the island.
"As it is now, it is worse than martial law in Boracay because they control the movements of people into and out of the island. But what is really happening there and why are they clearing forests and flattening a mountain," Zarate said in Filipino.