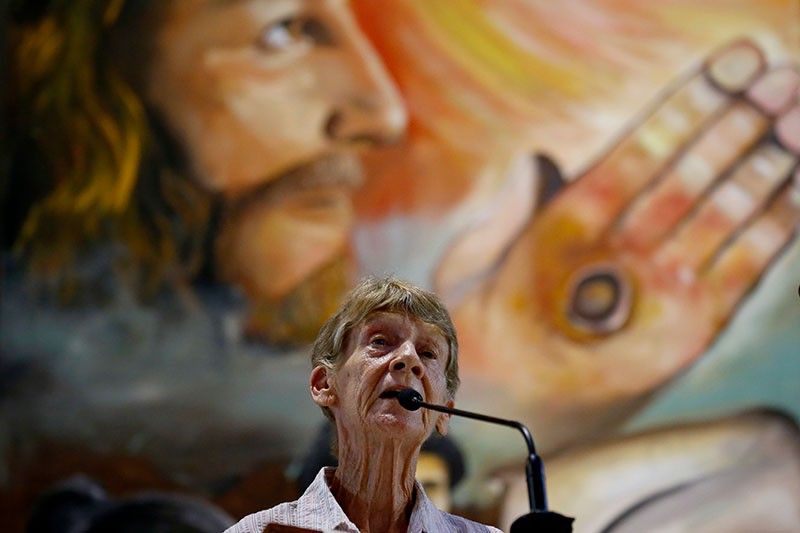 In this Wednesday, May 2, 2018, file photo, Australian Catholic nun Sister Patricia Fox addresses devotees from the pulpit of Baclaran Church, during a mass, in suburban Paranaque city, south of Manila, Philippines. Fox had her missionary visa in the Philippines revoked after President Rodrigo Duterte complained about her joining opposition rallies. The Immigration Bureau has given her 30 days to leave the Philippines after the president ordered an investigation into the 71-year-old as an "undesirable" foreigner.
AP Photo/Bullit Marquez, File
Makabayan bloc slams 'political persecution' of Sister Fox
MANILA, Philippines — Party-list lawmakers on Thursday slammed moves to eject Australian missionary Patricia Fox from the country after nearly three decades of .
In a five-page resolution, members of the national democratic Makabayan bloc called the investigation of and deportation case against Sister Fox a political persecution that "deserved to be condemned in the strongest words possible."
They said that: "President [Rodrigo Duterte's] order to investigate her is obviously a witch-hunt, part of a wider Malacanang-directed campaign to silence critics of his regime that particularly focuses on known Left personalities."
Reps. Ariel Casilao (Anakpawis party-list), Carlos Zarate (Bayan Muna party-list), Emmie De Jesus (Gabriela Women's party-list), Antonio Tinio (ACT Teachers party-list), Arlene Brosas (Gabriela Women's party-list), France Castro (ACT Teachers party-list) and Sarah Jane Elago (Kabataan party-list) signed the resolution.
They pointed out that when Fox was detained by agents of the Bureau of Immigration, she was only presented with photos of gatherings and assemblies that she allegedly took part in.
Kilusang Magbubukid ng Pilipinas, one of the national democratic groups to first issue a statement on her detention, believes she was apprehended in retaliation for her participation in an international fact-finding mission on allegations of human rights violations and harassment in Mindanao.
READ: Critics ask: If Duterte has nothing to hide, why the crackdown on foreign activists?
Sr. Pat was not shown any document indicating the charges against her, much less any evidence for her allegedly illegal political activities
The Bureau of Immigration said that its board, when ruling on the cancellation of the Australian nun's visa, "specifically cited a photograph taken of Fox last April 7 in Davao City where she was seen holding a placard demanding the release of all political prisoners in the country."
Foreign nationals are barred by an Immigration order from engaging in political activities for or against the government.
Duterte has admitted to being the person behind the probe order on the 71-year-old Australian nun.
"It was not the military who arrested the Catholic nun. It was upon my orders implemented by the Bureau of Immigration, and I take full responsibility, legal or otherwise, for this incident," Duterte said during his remarks at the turnover ceremony at the Armed Forces of the Philippines in Camp Aguinaldo on April 18.
"I ordered her investigated... not arrested, for a disorderly conduct," the president said.
The Makabayan bloc urged the Immigration bureau to reverse its order cancelling Fox's missionary visa and directing her to leave the country.
Fox filed her counter-affidavit on her deportation case last week.
READ: Fox to Immigration: You cannot define my missionary work