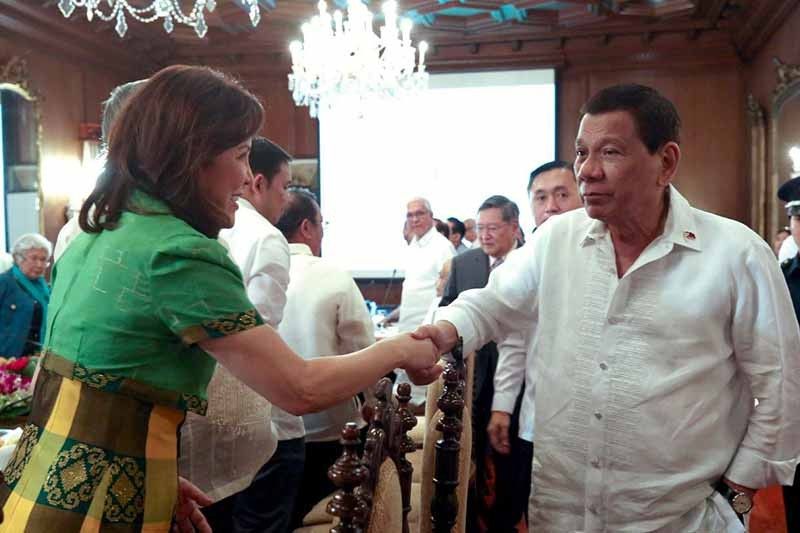 President Rodrigo Duterte greets Tourism Secretary Wanda Teo, who has since resigned, before the 25th Cabinet Meeting at the Malacañan Palace on May 7, 2018.
Presidential Photo/Toto Lozano
Duterte: I fired another official for corruption
MANILA, Philippines — President Rodrigo Duterte on Tuesday said that he removed another official from government due to corruption as he stressed that he has not interfered in official transactions to favor individuals.
On Tuesday, Tourism Secretary Wanda Tulfo-Teo was reported to have been asked by the chief executive to resign from her post following an advertisement scandal involving her department, state-run People's Television Network and a media company owned by her brother, Ben Tulfo.
Teo's spokesman and lawyer Ferdinand Topacio insisted early Tuesday that Duterte did not demand Teo's resignation and also denied that she had resigned.
Shortly after, he confirmed that she had resigned and had done so the night before. He maintained that Duterte did not tell his client to resign.
"I have removed many due to corruption. There is a recent one," Duterte said in Filipino in his remarks at the oath-taking ceremony of newly promoted generals and flag officers in the military. He declined to name the official, saying he did not want "to make publicity out of it."
READ: Wanda Teo quits amid DOT ad controversy
The president rued the fact that many of those who got implicated in graft were those who regularly went to Davao City to egg him on to run for president in 2016.
Duterte also stressed that he has not interceded on behalf of anyone in any government contract or transaction.
The chief executive also assured the military officers listening to him that he would support them in the fulfillment of their duties.
Despite Duterte's dismissal of government officials, he has not initiated any charges against any of these individuals.
The president has also "recycled" officials who resigned following allegations of irregularity or wrongdoing in office.
Teo had insisted that she was not resigning from her post despite the controversy on the P60 million that People's Television Network paid her brother Ben Tulfo's media company to air the ads of the department she heads.
A Commission on Audit report flagged the transaction because of a supposed lack of supporting documents, including one that authorized PTNI to take money from the DOT and remit it to Tulfo's Bitag Media Unlimited Inc.
Topacio also said that BITAG Media Unlimited Inc., whose chief executive officer and founder is Ben Tulfo, would return the P60 million paid by the Tourism department for its ad placements.
The Office of the Ombudsman has already launched an investigation into the issue and said that a Field Investigation Office had already been directed to conduct a fact-finding probe.