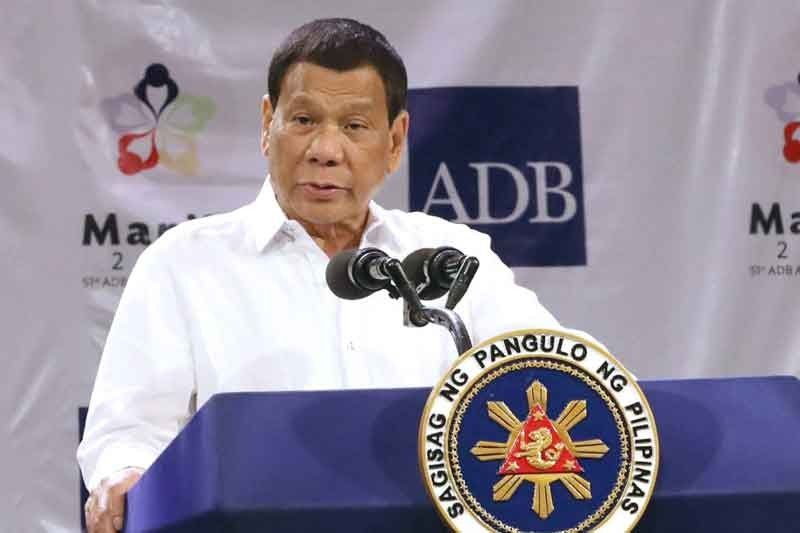 Duterte noted that getting rid of corruption was one of the campaign promises that helped him achieve a landslide victory during the 2016 presidential race.
File Photo
Rody to corrupt officials: Resign
MANILA, Philippines — Corrupt government officials and personnel should "have the sense" to resign, President Duterte said as he warned that he did not want to humiliate them in public.
Duterte noted that getting rid of corruption was one of the campaign promises that helped him achieve a landslide victory during the 2016 presidential race.
"I was the only one carrying the message that was appropriate at that time: corruption, drugs. I won't hold back on that, my God. If you are into corruption, just leave. I'll give you time. For those who are into it now, in government, published or otherwise, may you have the sense just to tender the resignation," Duterte said during a gathering of educators in Davao City last Friday.
"I am not fond of really insulting people in government. You'd never see me insult someone like that in public," he added.
Duterte said he does not want to embarrass crooked officials because some of them have children who are professionals.
"There was this one guy that I fired. When I started to read the report, (I learned that) he has children who are lawyers," he said.
Duterte warned those who are into corruption or illegal drugs that they might end up dead under his watch.
"I said corruption, drugs, they are not allowed. I cannot tolerate that... You leave. You will really die. Son of a b****. You will really die," he said.
Duterte has vowed not to tolerate even a whiff of corruption in his administration and to cleanse the government of wrongdoers. He has fired several officials accused of corruption but is also criticized for allegedly being soft on his allies who are tagged in irregularities.
For instance, some senators have assailed the justice department's decision to clear former Bureau of Customs chief Nicanor Faeldon of charges over the P6.4 billion shabu shipment that entered the country. Faeldon was appointed civil defense deputy administrator after resigning from the BOC.
Duterte also drew flak recently for appointing former Social Security System commissioner Jose Gabriel La Viña as tourism undersecretary. La Viña's services in the SSS were terminated after he was accused of proposing costly projects but he denied the allegations.
DOT chief resigning?
As this developed, The STAR yesterday tried to get in touch with Tourism Secretary Wanda Teo to determine if she is stepping down from office, but her phone was shut off.
Whether Teo would resign may be known in the Cabinet meeting this afternoon or anytime later this week as President Duterte has reportedly already been told of Teo's impending resignation as tourism chief.
Teo's resignation is seen to spare the President from problems within his Cabinet.
Documents pertaining to the investigation on the Department of Tourism's placement of P60 million worth of advertisements in a government television program produced and hosted by Tulfo brothers, Bienvenido and Erwin, and broadcaster Alex Santos are now in the office of Executive Secretary Salvador Medialdea.
Duterte earlier ordered a probe on the controversial deal especially after the Commission on Audit (COA) had flagged the placement of ads in the brothers' show "Kilos Pronto," a block timer in government station PTV 4.
The President has reportedly been angered by the controversy involving Teo.
Medialdea is expected to conduct an investigation, after which Duterte could come up with a statement following the conclusion of the probe. – With Edith Regalado