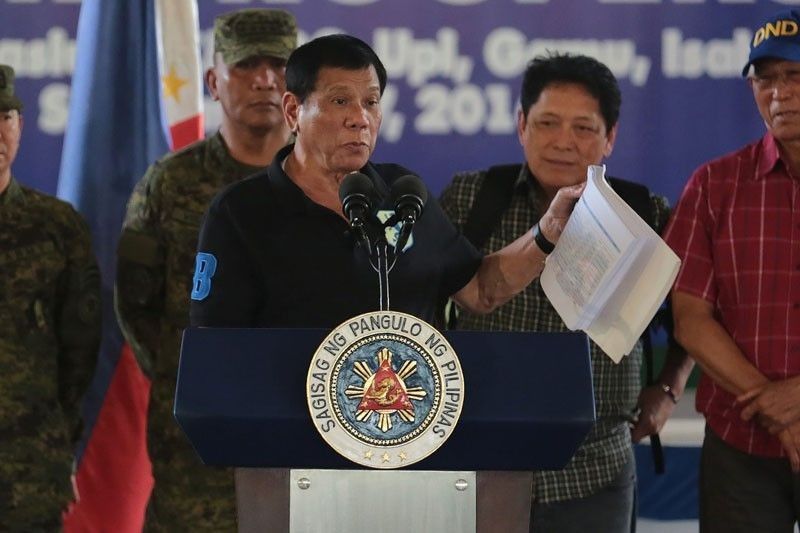 Duterte government officials denied that the barangay "narco-list" would serve as a "hit-list."
The STAR/Michael Vargas
207 village officials on PDEA 'narco-list' amid fears of becoming death squad targets
MANILA, Philippines — Amid criticisms from rights advocates and groups, the Philippine Drug Enforcement Agency announced that there are 207 village officials on the government list of politicians allegedly involved in the illegal drug trade Monday.
Of the 207 village officials included on the so-called "narco-list," 90 are barangay captains, while 117 are barangay councilors.
Bicol has the most number of officials on the list with 70, followed by CARAGA with 34 and Autonomous Region of Muslim Mindanao with 13.
The agency maintained that the list was validated by PDEA, Philippine National Police, National Intelligence Coordinating Agency and Intelligence Service of the Armed Forces of the Philippines.
PDEA Director General Aaron Aquino noted that "some of the officials in the list are users, some are pushers, some are even drug lords but most are protectors."
The filing of cases against the individuals on the list should be expected in a "week or two."
Aside from the 207 barangay officials on the drug list, there are still 274 officials being subjected to validation. Once the verification is complete, PDEA will also reveal their names.
Interior and Local Government Secretary Eduardo Año also confirmed that charges would be filed today at the ombudsman against the officials of 16 barangays in the country that do not have Barangay Anti-Drug Abuse Councils.
The release of the list linking politicians to the trade of illegal narcotics came two weeks before the village and Sangguniang Kabataan elections on April 14.
PDEA's move is to supposedly guide the public on who to vote for in the upcoming polls.
Human Rights Watch warned that the narco-list would endanger the lives of hundreds once it releases the list of candidates supposedly involved in the trade of illegal drugs.
"Far too many cases of those people who end up on lists of suspected drug personalities have ended up as victims of summary executions as we've seen in Duterte's 'drug war' in the past 21 months," HRW Asia Division researcher Carlos Conde said Friday.
READ: HRW: Release of village 'narco-list' will worsen the bloodshed
Aquino and Año denied that the barangay "narco-list" would serve as a "hit-list."
President Rodrigo Duterte, in many of his speaking engagements, brandished and bragged about his so-called "narco-list" which supposedly contained the names of politicians and officials profiting off the trade of illegal substances.
However, there have been mistakes in the past, with no less than former Philippine National Police chief Ronald Dela Rosa admitting the existence of inaccuracies.