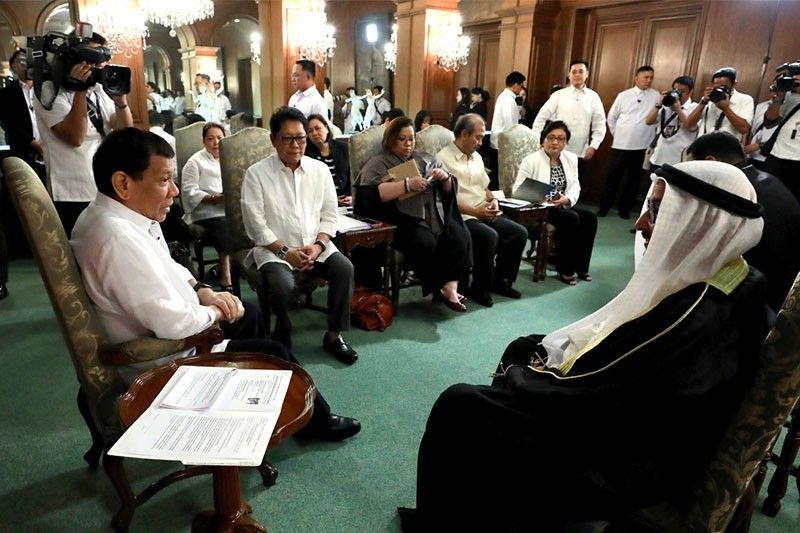 President Rodrigo Roa Duterte discusses matters with Ambassador of Kuwait to the Philippines Saleh Ahmad Althwaikh who met with the president at the Malacañan Palace on Feb. 7, 2018. Also in the photo is Labor and Employment Secretary Silvestre Bello III.
Presidential photo/Simeon Celi Jr.
Bello: Agreement with Kuwait would have been template for other countries
MANILA, Philippines — The Philippine government is eyeing to use the memorandum of understanding (MOU) with Kuwait as a template for future agreements with other countries, Labor Secretary Silvestre Bello III said Friday.
The agreement between the Philippines and Kuwait was slated for signing before the Islamic holy month of Ramadan.
It remains unclear whether the signing of the agreement would push through as Kuwaiti Ambassador Saleh Ahmad Althwaikh had already been recalled to his country.
The Kuwaiti envoy immediately left Manila following the announcement of Kuwait to declare Philippine Ambassador Renato Villa as persona non grata.
Bello, however, remains confident that the signing of the memorandum of understanding with Kuwait would still push through.
"I still see a very big possibility na matutuloy 'yung MOU," Bello said in a televised press conference in Singapore.
The Labor secretary added that the agreement on overseas workers is tied to the trade relations between the Philippines and Kuwait.
"Itong bagay about overseas workers is part of our trafe relation dahil maganda naman ang ating diplomatic relation... We have a good trade and migrant workers relation," Bello said.
He added that President Rodrigo Duterte was surprised with the Kuwaiti government's declaration as the meeting with Saleh appeared to have resolved the issue between the two countries.
During a meeting in Davao City earlier this week, the Kuwaiti envoy gave his commitment to Cabinet officials on moving forward with bilateral relations.
"I had a quick conversation with the ambassador and he again reiterated his eagerness for the signing of the MOU that's why I was surprised that later in the evening I found out that he left for Kuwait," the Labor secretary said.
Following the Philippine Embassy's rescue operations for distressed Filipino domestic helpers, the Kuwaiti dismissed Villa and gave him a week to return to Manila.
The Kuwaiti government accused the Philippine Embassy of violating Provision 41 of the 1961 Vienna Convention on Diplomatic Relations, which "bars infringement on individuals' prerogatives and immunities, respecting states' laws and non-intervening in their local affairs."
Bello, on the other hand, insisted that the rescue missions for OFWs were valid.
"My only position is that we have to protect our overseas workers at all cost. If given the situation, I would do the same thing," Bello said.
Duterte, who is currently in Singapore for the ASEAN Summit, is expected to make an announcement regarding the Philippines' course of action following the developments in Kuwait later today.