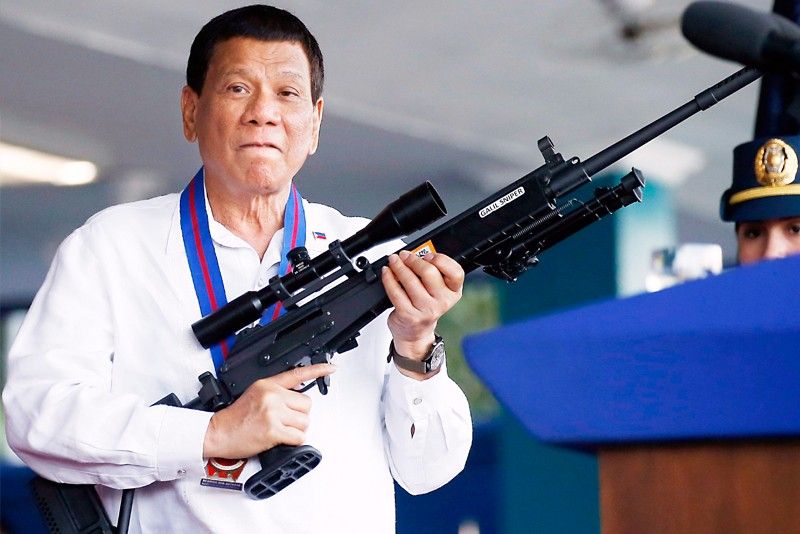 President Duterte poses for photographers holding an Israeli-made Galil rifle which was presented to him by outgoing Philippine National Police chief Director General Ronald dela Rosa during a turnoverof-command ceremony at Camp Crame last April 19. Duterte told the crowd he will not stop his war on drugs until his last day in office.
AP
Drug war killings still hound Philippines – US
WASHINGTON – Extrajudicial killings fueled largely by the Duterte administration's anti-drugs campaign persisted in 2017 with many of the cases not investigated and their perpetrators remaining unpunished, the US State Department said in a report.
In its 2017 Country Reports on Human Rights Practices released on Friday, the State Department said the Philippines only investigated a limited number of reported human rights abuses, including those allegedly committed by security forces, paramilitaries and insurgent and terrorist groups.
"Concerns about police impunity increased significantly following the sharp increase in police killings. President Duterte publicly rejected criticism of police killings, but he said authorities would investigate any actions taken outside the rule of law," it said.
"Significant concerns persisted about impunity of civilian national and local government officials and powerful business and commercial figures," it added.
Extrajudicial killings have been the chief human rights concern in the Philippines for many years and after a sharp rise with the onset of the anti-drug campaign in 2016 they continued in 2017, it said.
The report said the Philippine National Police (PNP) claimed to have begun investigations of all reports of extrajudicial killings.
As of August 2017 police claimed to have resolved 1,889 cases and 4,373 cases remained under investigation, the report said.
It said from July 2016 through October 2017, local law enforcement agencies reported that 3,967 "drug personalities" died in connection with anti-drug operations in the Philippines.
The report acknowledged the number of alleged extrajudicial killings varied widely as government and nongovernmental organizations used different interpretations to separate politically motivated killings from drug-related cases.
Police also changed the language they used with respect to deaths outside official police actions, referring to them uniformly as "homicide cases."
"From January to the end of September, media reports chronicled more than 900 fatalities in police operations suspected to be connected with the government's anti-drug campaign," read the report.
The report cited the case of 17-year old Kian Loyd delos Santos, who was killed by members of the Caloocan police during an anti-drug operation, as well as allegations of unsanctioned drug raids and mismanagement of evidence.
It added as of October 2017, no criminal complaints had been filed by the Public Attorney's Office or the National Bureau of Investigation against police officers accused of unlawful killings.
Only a limited number of reported human rights abuses were investigated by the Duterte administration, the country report said.
"Government mechanisms to investigate and punish abuse and corruption in the security forces remained largely ineffective," the State Department said.
The US government also noted other human rights concerns in the Philippines, including torture and abuse of prisoners and detainees by security forces, often harsh and life-threatening prison conditions, warrantless arrests by security forces and cases of apparent government disregard for legal rights and due process.
Abuse of power
It also noted the existence of political prisoners like Sen. Leila de Lima, killings of and threats against journalists, official corruption and abuse of power.
Citing incidents such as the Marawi crisis, the State Department noted that conflicts continued between the government and Muslim separatists, communist insurgents and terrorist groups.
It said such incidents resulted in displacement of communities and deaths of security force members and civilians.
"Terrorist organizations engaged in kidnappings for ransom, bombings of civilian targets, beheadings and the use of child soldiers in combat or auxiliary roles, and the organizations operated shadow governments in areas they controlled," read the report.
Released every year, the US country reports on human rights practices document the status of human rights and worker rights in nearly 200 countries and territories.
"These reports are required by US law and are used by a variety of actors, including the US Congress, the executive branch and the judicial branch as a factual resource for decision making on matters ranging from assistance to asylum," Acting Secretary of State John Sullivan said.
"Our foreign policy reflects who we are and promotes freedom as a matter of principle and interest. We seek to lead other nations by example in promoting just and effective governance based on the rule of law and respect for human rights. The United States will continue to support those around the world struggling for human dignity and liberty," he added.
Sullivan said the most egregious human rights violators were Syria, Burma, North Korea, China, Iran, Turkey, Venezuela and Russia.
In Manila, Commission on Human Rights (CHR) chairman Chito Gascon said the contents of the State Department report did not surprise him.
"The US State Department issues its global human rights report annually around this time highlighting the concerns from across the world," Gascon said in a text message.
"It had already raised concerns about the drug war deaths in the country in its previous report. It is not surprising that it would do so again as the Duterte administration has essentially ignored the concerns raised by the international community on the matter," he added.
The CHR is a vocal critic of the war on drugs. It has repeatedly urged the government to file cases against police officers involved in so-called nanlaban (resisting arrest) cases.
Filipinos know better
Reacting to the report, Foreign Affairs Secretary Alan Peter Cayetano said "we do not need others who think they know better than us Filipinos to tell us what to do."
He reiterated his appeal to the international community to respect the sovereignty of the Philippines.
"As a sovereign nation, the Philippines deserves the same kind of respect we have been extending to our friends in the international community," he said.
The secretary maintained that the Philippines, as a sovereign state with a fully functioning democracy, has its own internal processes and mechanisms to ensure that the human rights of everyone are protected and respected.
"We would like to emphasize that our vigorous campaign against criminality, most especially against the illegal drug trade, seeks to promote the welfare and protect the human rights of all Filipinos – to save lives, to preserve families, to protect communities and stop the country from sliding into a narco-state," said the secretary.
Meanwhile, Senate President Aquilino Pimentel III lashed out at the European Parliament for criticizing the Duterte administration's war on drugs and for calling for the release of De Lima from detention.
Pimentel said the European Parliament appears to be "micromanaging" the Philippines with its statements on extrajudicial killings.
"They want to be the ones to implement our laws against illegal drugs. Even the cases against terrorists, which are being handled by the Department of Justice, they also want to be the ones to decide on this. They are interfering too much into our affairs and I am disappointed with them," Pimentel said over radio dwIZ yesterday.
He said it was unacceptable that parliamentarians from "thousands of kilometers away from the Philippines" appear to know more about what is happening in the country than Filipinos themselves.
"Why do they think they're so good? Why would they have more knowledge about our own situation on the ground?" Pimentel said.
In the joint resolution, the European Parliament also called on the Philippine government to remove the terrorist tag on United Nations special rapporteur on human rights Victoria Tauli Corpuz.
Pimentel noted there is a process for the inclusion of personalities in the list of known terrorists and the case involving Corpuz is not yet final.
"We have due process. They can defend themselves through our court processes. So why is the EU parliament the one deciding for us?" Pimentel said.
According to Pimentel, he has repeatedly tried to explain the actual situation in the country in response to their concerns but the European members of parliament appear to be not interested.
He recalled how he had already explained to them the case of De Lima, a "friend" to whom – he claimed – he owes a debt of gratitude.
Pimentel noted the Supreme Court had already rejected her motion to have her case dismissed.
"Now here they (parliamentarians) have not read the petition, the merits of the case. I do not want to talk to this kind of people. These kinds of debates and discussions will lead nowhere. These are not reasonable people so it's a waste of time," Pimentel said.
Cayetano earlier called the resolution a product of "biased, incomplete and even wrong information."
"The European Parliament has crossed a red line when it called for unwarranted actions against the Philippines," said Cayetano.
He added the message of the resolution "does not reflect the true situation on the ground." – Janvic Mateo and Marvin Sy