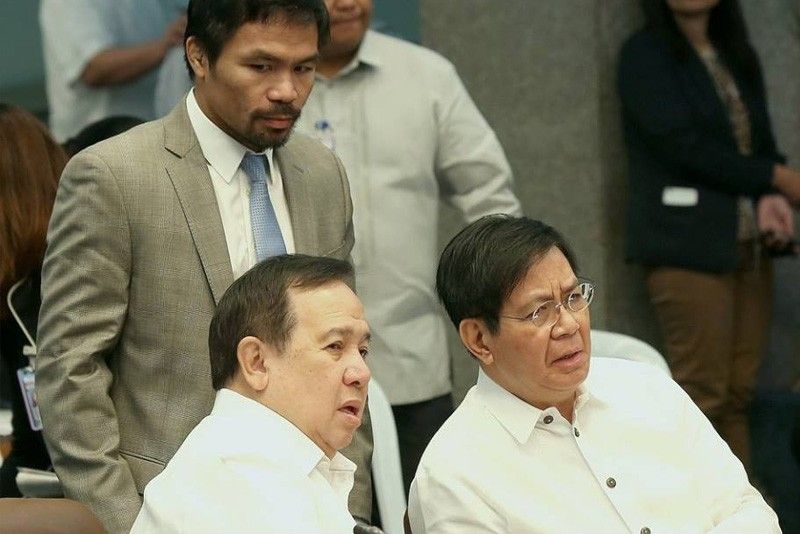 Sen. Panfilo Lacson said that Senate blue ribbon chair Richard Gordon was "directing the investigation to suit the outcome that he had desired from the very start."
PRIB/Albert Calvelo
Lacson won't sign Gordon's draft Dengvaxia report
MANILA, Philippines — Sen. Panfilo Lacson will not sign the draft report on the controversial anti-dengue vaccination program, citing Sen. Richard Gordon's "unreasonable" remarks against him.
"The unreasonable comments made by Sen. Gordon about me [...] just firmed up my decision not to sign his committee report," Lacson said Monday.
In an interview on Sunday, Gordon insinuated that Lacson came to the defense of former President Benigno Aquino III because he was returning political favor extended to him by the ex-chief executive.
Gordon, however, said that he respects the opinions of Lacson and Sen. Antonio Trillanes IV.
"While I did not attend a single hearing on Dengvaxia for [the] obvious reason shared by most of my colleagues, I was closely monitoring the proceedings in my office," Lacson said.
He added: "Having said that, even that early I had my reservations based on his prejudgement which was too obvious to ignore. He (Gordon) was directing the investigation to suit the outcome that he had desired from the very start."
Sen. Leila de Lima also said that the draft report prepared by Gordon is noting more than a "personal diatribe."
READ: Senate blue ribbon on Dengvaxia mess: Aquino simply did not care
The draft report recommended the filing of charges against Aquino and other former officials over the botched implementation of the anti-dengue vaccine.
Lacson immediately came to the former president's defense in a social media post.
"Having worked closely with ex-Pnoy (Aquino) both in the Senate and Malacañang, it is difficult for me to believe that he was capable of committing graft and corruption," he said on Twitter.
Aquino appointed Lacson to take charge of the rehabilitation of areas devastated by Super Typhoon Yolanda (Haiyan) in 2013.
READ: Lacson comes to Aquino's defense: Former leader incapable of graft
The former leader also ordered a reinvestigation of the charges filed against Lacson after a witness said that the Arroyo administration forced him to implicate the former national police chief in the death of publicist Salvador Dacer and driver Emmanuel Corbito in 2000.