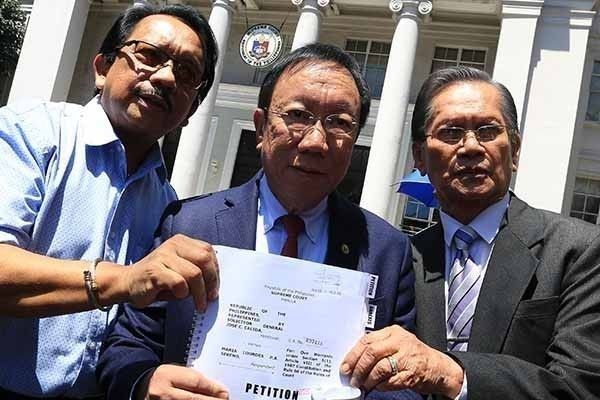 Solicitor General Jose Calida, suspended lawyer Eligio Mallari and Volunteers against Crime and Corruption president Dante Jimenez hold a copy of the petition for quo warranto they filed before the Supreme Court on Monday, March 5.
The STAR/Edd Gumban
Sereno camp: Calida's confirmation of existence of missing SALNs 'destroys' quo warranto
MANILA, Philippines — The camp of Supreme Court Chief Justice Maria Lourdes Sereno on Saturday said Solicitor General Jose Calida's confirmation of the existence of the top magistrate's missing wealth declarations should result in the "immediate" dismissal of ouster petition against her.
Sereno's lost Statements of Assets, Liabilities and Net Worth are central to Calida's "quo warranto" petition that seeks to invalidate the chief justice's appointment.
Lawyer Jojo Lacanilao, Sereno's spokesperson, said on Thursday the high court's top judge has "recently retrieved her 1985, 1989, 1990, 1991, 1993, 1994, 1995, 1996 and 1997" SALNs.
But Calida slammed Sereno for "misleading the public," saying the supposedly recovered SALNs were the same ones he submitted to the SC.
"The fact that Calida himself confirmed that he had obtained the SALNs himself proved that the Chief Justice had indeed filed her UP SALNs contrary to solicitor general's claim in his petition," Deinla said in a statement.
"His submission is an admission that his petition is baseless. The recovery of most of the SALNs destroys the SolGen's main argument that the Chief Justice should be removed from office on ground that she failed to file her SALNs and submit them to the Judicial and Bar Council," he added.
The government's chief legal counsel has accused Sereno of failing the "integrity test" when she did not submit her SALNs for several years.
The high tribunal held an almost six-hour oral argument hearing on April 10, at the SC Session Hall in Baguio.
The SC, headed by Acting Chief Justice Antonio Carpio, ordered Sereno and Calida to file their respective memorandum on the petition for quo warranto on or before April 20. After their submission, the case will be deemed submitted for resolution.