Senate blue ribbon on Dengvaxia mess: Aquino simply did not care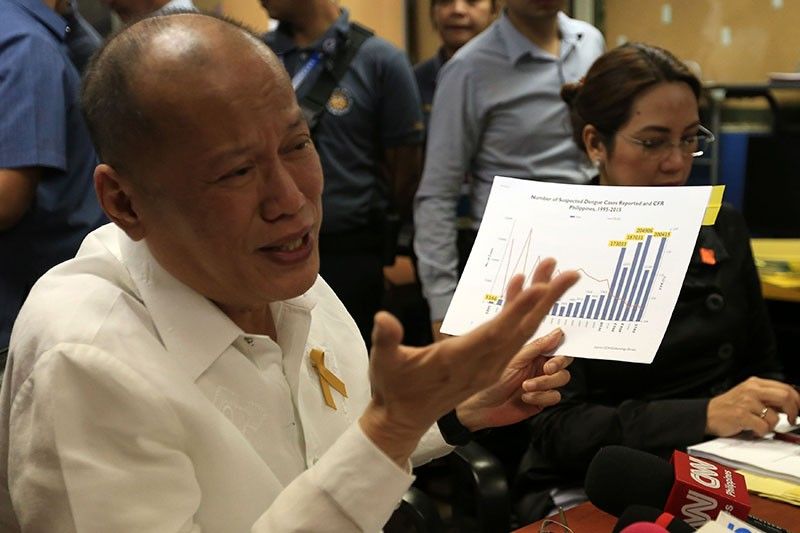 MANILA, Philippines — Former President Benigno Aquino III is guilty of "malfeasance, misfeasance and nonfeasance" in connection to the anti-dengue vaccine fiasco, according to the draft Senate Blue Ribbon report released Wednesday.
It said that Aquino's previous meetings with Sanofi officials violated Republic Act 6713 or the Code of Conduct and Ethical Standards for Public Officials and Employees.
Section 4b of RA 6713 states that public officials and employees "shall perform and discharge their duties with the highest degree of excellence, professionalism, intelligence, and skill... They shall endeavor to discourage wrong perceptions of their roles as dispensers or peddlers of undue patronage."
"By meeting with mere senior vice presidents of Sanofi-Pasteur, he was sending a strong message or perception that he was dispensing undue patronage," the draft report read.
The blue ribbon committee accused Aquino of putting the lives of Filipino children in grave peril by "simply not caring."
"He simply did not care. Manhid siya at walang malasakit. Napakaraming magulang ang nag-aalala, balisa at hindi makatulog. Hindi nila matiyak kung ano ang sasapitin ng kanilang mga supling (There are so many parents who were worried, anxious and unable to sleep. They cannot guarantee what will happen to their offsprings)," the report read.
The Aquino camp, meanwhile, said that the former president is willing to face any additional complaints that would be filed against him in connection to the Dengvaxia mess.
"Former President Aquino has always demonstrated his readiness to answer questions about his decisions as president. His consistent participation in legislative investigations and other venues shows this," Aquino's spokesperson Abigail Valte said in a statement.
Aquino, former Budget Secretary Florencio Abad and former Health Secretary Janette Garin must be held criminally liable for the anti-dengue vaccine mess, the report said.
Sen. Richard Gordon, chair of the Blue Ribbon committee, said that Aquino, Abad, Garin and other primary conspirators must be prosecuted for the Dengvaxia mess.
"While we were preparing for the [May 2016] elections, the government purchased, in undue haste, with the approval of President Benigno S. Aquino III through Budget Secretary Florencio Abad and Health Secretary Janette Garin together with other certain officials of the Department of Health a new anti-dengue vaccine called Dengvaxia," Gordon said in a press conference Wednesday.
According to Gordon, Aquino is responsible for the Dengvaxia fiasco as he approved the purchase of the vaccine and caused "irreversible damage" to children, parents and guardians.
The report also showed that the vaccine was purchased despite objections from local and international experts.
"The purchase ignored the objections of local and international experts from the academe and practitioners who feared that the subsequent infection after vaccination could bring about severe dengue," Gordon said.
Last month, the Department of Justice issued a subpoena against Aquino, Abad and Garin ordering them to attend a hearing on the Dengvaxia case filed by the Volunteers Against Crime and Corruption and Vanguard of the Philippines, Inc.
Aquino is accused of authorizing the release of P3.55 billion for the purchase of the vaccine within the 45-day election ban in 2016. The former president had clarified that the purchase order was signed two weeks before the start of the election ban two years ago.
"This complaint is based on imagination and wrong intention. It is clear that this failed the standards of the law and truth," Aquino said