PNP chief Albayalde wants drug tests for barangay, SK poll bets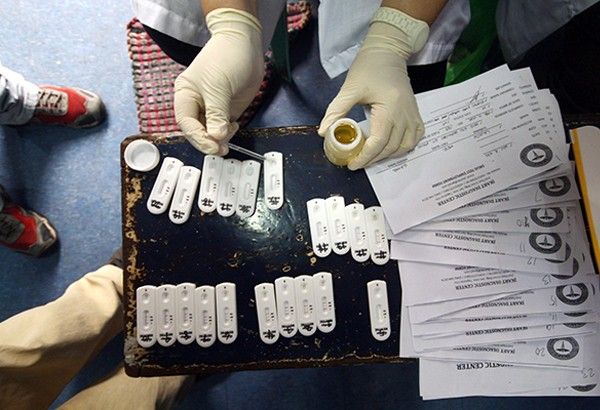 MANILA, Philippines — Incoming Philippine National Police (PNP) chief Director Oscar Albayalde said candidates for the barangay ang Sangguniang Kabataan (SK) elections should take a drug test.
Albayalde said people seeking elective posts should take the initiative and show the public they are not hooked on illegal drugs.
"If I'm running as a barangay official or for any other elected position, I will volunteer to undergo a drug test if I'm not hiding anything," Albayalde said over dzMM on Friday.
Albayalde, who is set to succeed Director General Ronald dela Rosa as PNP chief, said voters should be wary of candidates who are involved in illegal drugs.
"Our countrymen should be educated on the persons they should vote for in their respective barangays," Albayalde said.
According to Philippine Drug Enforcement Agency (PDEA) director general Aaron Aquino, 289 barangay officials are included in the narcolist of President Duterte.
The officials are composed of 143 barangay captains and 146 councilors.
Of the number, 207 officials are believed to still be active in the illegal drug trade.
Aquino urged officials to activate their respective Barangay Anti-Drug Abuse Councils (BADACs) and cooperate in the government anti-drug campaign.
Old forms
The Commission on Elections (Comelec) said prospective candidates for the May 14 barangay and SK elections should not be surprised if they see Oct. 23, 2017 in the certificates of candidacy (COCs) that they will be filing as it decided to use the COC forms intended for the 2017 elections that were postponed.
Comelec Law Department director Maria Norina Tangaro-Casingal noted there is no need to modify the forms as the use of the old ones were allowed under various resolutions.
The Comelec said COCs can now be downloaded from the agency's website www.comelec.gov.ph and that the period of filing is from April 14 to 20.
Media accreditation
The Comelec also reminded local and foreign media who wish to cover the polls to apply for accreditation with the poll body.
In Resolution No. 10285 promulgated on April 5, the Comelec said the "accreditation shall ensure the integrity of the individuals performing media functions during elections."
The Comelec noted it is implementing the accreditation system as the "proliferation of amateur media enthusiasts and independent media practitioners may be used as a means to mask the operations of certain individuals or groups who intend to undermine the orderliness and credibility of elections."
"Duly accredited members of the mass media shall be given free access to polling places and voting centers for pruposes of observing and reporting on election events and processes," the agency said.
Based on the resolution, media representatives who can apply for accreditation include bloggers, documentary filmmakers, feature film makers, novelists, journalists from online news organizations, print, radio and television along with those from production, photo journalists, playwrights, professional photographers and videographers and screenwriters.
Those applying for accreditation must secure an endorsement from the publisher, editor-in-chief, assignment editor and station manager, among others, the Comelec said.
The Comelec added that freelancers may be accredited only if they are "on assignment for a professionally recognized organization, provided that the request for accreditation shall be made by organization" that they are representing.
The resolution stated they should also have previous accomplishments, which are highly visible, respected and widely recognized." – With Sheila Crisostomo