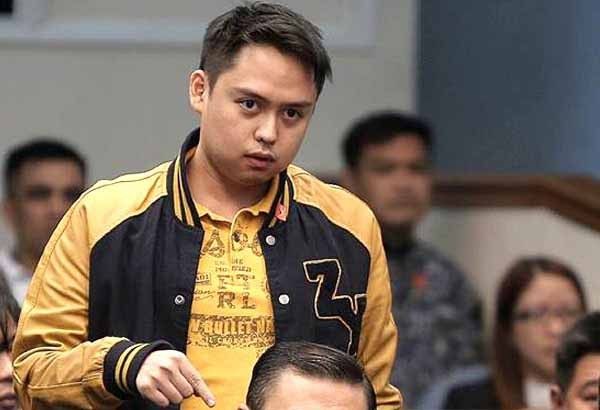 Customs broker Mark Taguba (center) on Aug. 31, 2017 face the Senate blue ribbon panel investigating the entry of billions of pesos worth of metamphetamine hydrochloride or shabu, from China. Taguba has linked President Rodrigo Duterte's son, Paolo, and son-in-law, Mans, to the illegal deal.
Senate PRIB/Alexis Nuevaespana
Duterte appoints lawyer accused of corruption as Customs official
MANILA, Philippines — President Rodrigo Duterte has appointed a lawyer who was implicated by a Customs fixer in the corruption at the Bureau of Customs as an assistant commissioner of the government agency.
During last year's House of Representatives hearing into the entry of P6.4 billion worth of crystal methamphetamine or "shabu," Customs fixer Mark Taguba accused then-Manila International Port District Collector Vincent Philip Maronilla as among officials of the agency of taking bribes to facilitate his transactions
Taguba again named Maronilla as among individuals receiving "tara" or grease money since he started his business of facilitating Customs transactions in August 2016 in a Senate Blue Ribbon Committee hearing.
Despite this allegation, Maronilla was still appointed by Duterte, who regularly stresses his crackdown on corruption in his government, to be an assistant commissioner of the BOC.
"Pursuant to the provisions of existing laws, you are hereby appointed Assistant Commissioner, Bureau of Customs, Department of Finance," read the appointment letter signed by the chief executive. The letter was dated April 3.
Duterte has fired several officials supposedly for corruption and unjustified use of public funds.
The president famously vowed to fire officials, including those close to him, if there was a "whiff" of corruption from them.
During one of the Senate hearings into the entry of illegal drugs to the country, Taguba said that he had given a total of P92 million as grease money to Customs officials and players since August 2016.
Taguba said that this money came from clients who wanted to facilitate their containers out of the agency.
He told a House panel that the BOC officials who received money were Maronilla, Customs Intelligence and Investigation Service Director Neil Estrella, Deputy Commissioner for Intelligence Teddy Raval, District Intelligence Officer Teodoro Sagaral and Import Assessment Service Director Milo Maestrecampo.
Taguba also cited several individuals whose full names he did not know.
The officials meanwhile denied that they received bribes to facilitate Customs transaction.
"I may probably be a rebel, but I'm not a thief," said Maestrecampo, who was one of the soldiers who launched military uprisings against former President Gloria Arroyo.
Sen. Richard Gordon,chair of the Senate's Blue Ribbon committee, urged the Bureau of Internal Revenue and the Office of the Ombudsman to monitor the individuals mentioned by Taguba.
Taguba and several traders are facing charges related to drug importation. No Customs official, however, has been sued by the Department of Justice in relation to the multibillion shipment of narcotics.