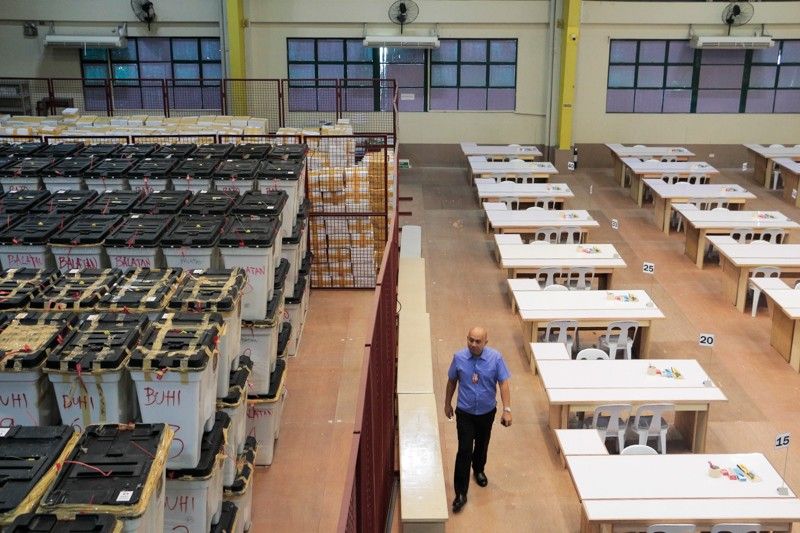 This photo shows the facility where the Presidential Electoral Tribunal conducts its manual recount of votes from three pilot provinces identified by former Sen. Ferdinand "Bongbong" Marcos in his electoral protest.
Philstar.com/Efigenio Toledo IV
Four heads of panels for VP election recount resign, parties say
MANILA, Philippines — Four heads of panels tasked with the recount of ballots from three pilot provinces identified by former Sen. Ferdinand "Bongbong" Marcos in his electoral protest against Vice President Leni Robredo have resigned, both camps said on Tuesday.
The resignations came a day after the Supreme Court, sitting as the Presidential Electoral Tribunal, started the manual recount of ballots from Camarines Sur, Iloilo and Negros Oriental, the three pilot provinces identified by Marcos.
"That is confirmed," Vic Rodriguez, the spokesman for Marcos, said.
"Worth asking why, considering that these are highly qualified people chosen no less by the PET and even underwent a rigid psych test," he added.
Bernadette Sardillo, one of the lawyers of Robredo, described the resignation as an "unfortunate" incident that could cause a delay in the proceedings.
Head revisors, as they are called by PET, lead the three-person committees in charge of recounting the contested ballots from the pilot provinces.
Marcos, who lost the vice presidency by more than 260,000, is alleging that the vote-counting machines used in the 2016 elections were manipulated to favor Robredo, who was the candidate of the previous administration party.
Marcos identified the three pilot provinces in his electoral protest and must prove "substantial recovery" in his votes for the PET to continue with the recount of the votes from 24 identified provinces.
"They are no ordinary revisors, having undergone rigid psychological test and meticulous screening by the PET. They must have a compelling reason for backing out and I am one with the Filipino people in asking why," Marcos said in a statement.
"I hope this will not result in another round of delays especially now that we have started to uncover clear signs of fraud," he added.
On Monday, Marcos alleged irregularities after it was found that ballots from a town in Camarines Sur were wet and some audit logs were not in the ballot boxes.
However, Romulo Macalintal, Robredo's lawyer and a veteran election lawyer, said that wet ballots were a common occurrence in the Philippines.
He also explained that Marcos should first consult his lawyers before speaking to the media as the supposedly missing audit logs are with the Commission on Elections.
Marcos is the son of the late Philippine dictator who ruled with an iron fist from 1965 to 1986. He and his family were ousted from power 32 years ago by a popular military-backed revolution.
If the younger Marcos succeeds in his case, he will be a heartbeat closer to the presidency, which many analysts believe is the real target of the Marcos family.