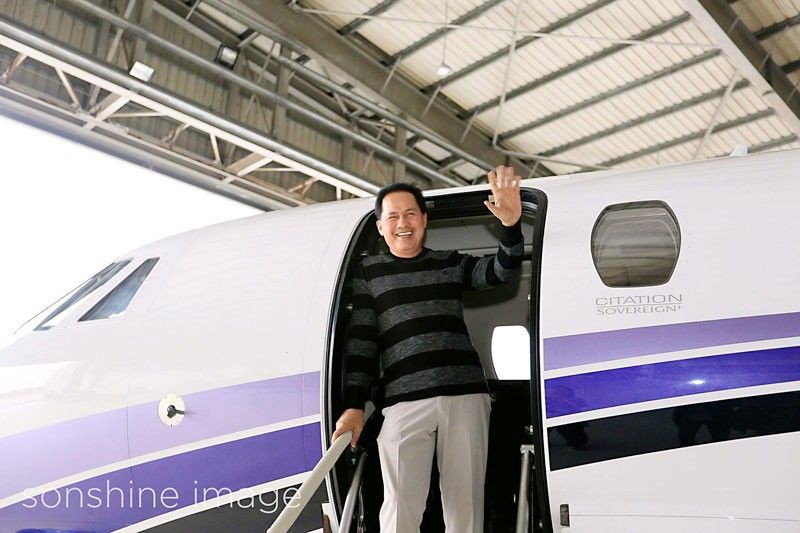 Facebook photo shows evangelist Apollo Quiboloy waving from his Cessna Citation Sovereign jet, which landed at his compound in Davao City yesterday. The private jet was held by US authorities in Hawaii last month
Facebook
FBI probes Quiboloy's Hawaii church for human trafficking — report
MANILA, Philippines — The Federal Bureau of Investigation is looking into the church of Pastor Apollo Quiboloy in Hawaii for possible human trafficking.
Hawaii News Now, a local news outlet, reported that the FBI is focused on Felina Salinas, business manager of Quiboloy's sect Kingdom of Jesus Christ the Name Above Every Name in Waifahu, Hawaii.
Salinas was among those aboard the plane leased by Quiboloy when federal agents found $350,000 in cash and gun parts inside last February.
She was arrested after claiming the cash was hers. Quiboloy, on the other hand, was briefly detained.
A source of Hawaii News Now said that the FBI sent an agent shortly after the arrest of Salinas.
READ: Pastor Quiboloy's camp denies he was detained in Hawaii
The news site also reported that Salinas was previously arrested in 2015 for allegedly assaulting Kristina Angeles, a fellow church member.
Angeles claimed she was forced to raise money by selling "manapua and Krispy Kreme" donuts for hours, "rain or shine." In her police statement, she also said that church members were punished if they did not sell enough.
The church's charity, Children's Joy Foundation, was also accused of "aggressive fundraising and even misrepresentation."
For lawyer Clare Hanusz, the case of Angeles "indicated some of the classic signs of human trafficking."
READ: Woman on private jet with Pastor Quiboloy to Philippines smuggled cash — US agents
But Salinas' lawyer, Michael Green, told Hawaii News Now that the allegations had no merit, noting that the state had dismissed the charges.
Salinas is a loyal supporter of Quiboloy, who proclaimed himself as the "Appointed Son of God." He has been friends with President Rodrigo Duterte for more than 30 years.
His mega-church claims to have six million followers all over the world.