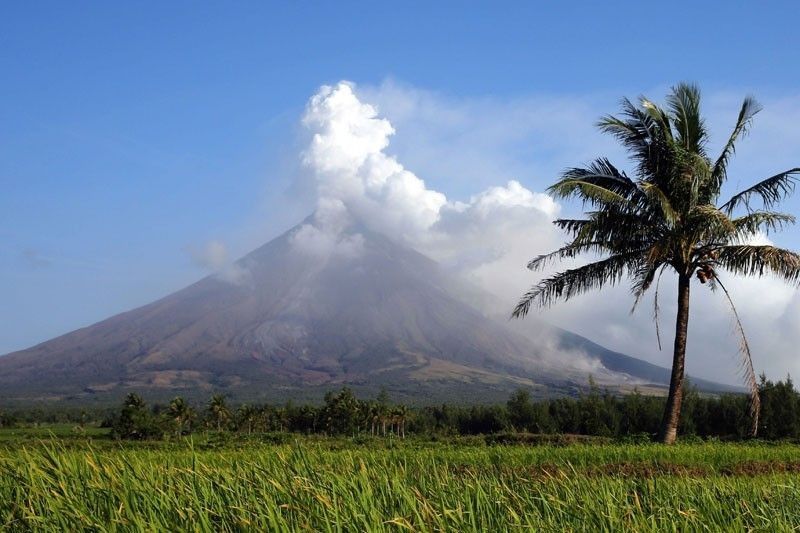 In a bulletin, the Philippine Institute of Volcanology and Seismology lowered the alert status of Mount Mayon in central Albay province to level 2. File
Phivolcs lowers Mayon alert level
MANILA, Philippines — The country's volcanology agency on Thursday lowered the alert status for the Philippines' most active volcano, signifying the cessation of eruptive activity and the decline to a moderate level of unrest.
In a bulletin, the Philippine Institute of Volcanology and Seismology dropped the alert status of Mount Mayon in central Albay province to Level 2.
Phivolcs said that after monitoring regular episodes of volcanic activities, Mayon has calmed down for the past two weeks. No new lava has been detected on Mayon's summit crater.
But Phivolcs stressed that lowering the alert level does not mean that the volcano's unrest has ceased, adding that the alert status may be raised to Level 3 again if there is a resurgence of intense activity.
"The public is still reminded to avoid entry into the 6-km Permanent Danger Zone due to perennial hazards of rockfalls, avalanche, ash puffs and sudden steam-driven or phreatic eruptions at the summit area," volcanologists said.
"Furthermore, people living in valleys and active river channels are cautioned to remain vigilant against sediment-laden streamflows and lahars (mud flow) in the event of prolonged and heavy rainfall," they added.
Mayon's 52nd eruption in about 400 years has displaced thousands of people after it started spewing lava, ash and pyroclastic material last January.
The Philippines, which lies on the so-called "Ring of Fire", where many quakes and volcanic eruptions occur, has about 22 active volcanoes.
Related video: