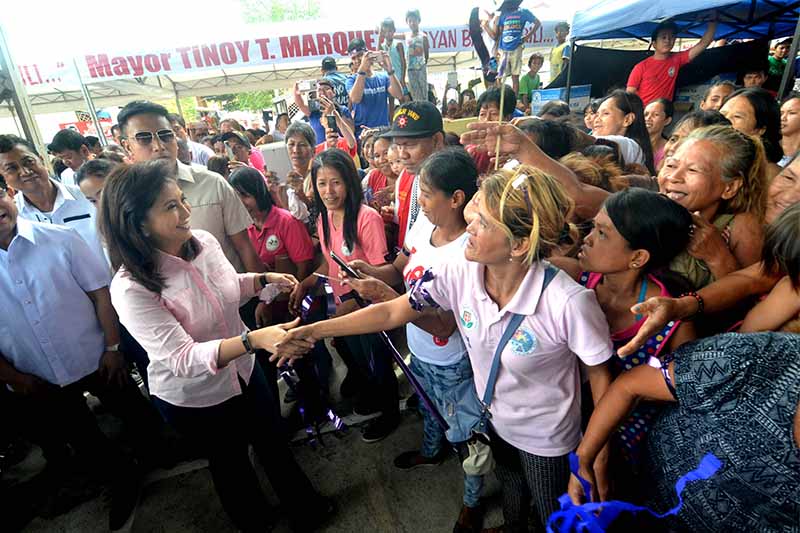 In this March 22, 2018 photo, Vice President Leni Robredo met women from resettlement sites in Pandi, Bulacan, for the Laylayan Women's Rally, an initiative of her office to celebrate the strength of women at the fringes of society in line with Women's Month. Office of the Vice President
Federalism without anti-political dynasty law 'fatal' to country
MANILA, Philippines — A shift to a federal form of government without an anti-political dynasty law is "fatal" as this will embolden families to further control their areas of jurisdiction, Vice President Leni Robredo said on Friday.
Robredo said that an anti-political dynasty law should be passed first before discussions on federalism could begin.
The vice president also stressed that further studies should be made first if it was really federalism that would cure the country's ills.
"I think federalism without an anti-political dynasty law will be fatal to all because it will just embolden political families to further control their jurisdictions," Robredo said in Filipino in an interview at the launch of the Albay Provincial Library Gender and Development Section.
"For me, I always say this, I hope that we can pass first the anti-dynasty law before we talk about federalism," she added.
Robredo, who herself authored an anti-dynasty law during her time as representative of Camarines Sur, cited several reasons why political dynasties should be outlawed.
The vice president said that studies had shown that areas with fat dynasties- two or more members of the same family in office- had the highest incidence of poverty.
She said that one reason could be the lack of desire to change the status quo left by a family member or improve his governance.
She also said that everybody should be given a chance to serve the public as she cited cases in which individuals succeeded their relatives in office.
"We are removing equal opportunity for everybody to participate," she said.
Robredo said political dynasties could be seen not just among lawmakers but also among governors, mayors and other local government officials.
This could be the reason, the vice president said, why it was difficult to pass an anti-political dynasty measure in Congress, where many members come from political dynasties.
In an about-turn over the issue, President Rodrigo Duterte expressed his support to the prohibition of political dynasties but doubted if this idea would sit well with the public.
On Thursday, a majority of senators approved a proposal to prohibit immediate and extended relatives from running for public office to succeed an incumbent family member.
Robredo meanwhile cautioned those pushing for the shift to a federal form of government, saying they should study first the issues that the idea will try to solve.
"If what we want to address can be resolved by amending our laws, why not do it first?" the vice president, the highest-ranking official of the erstwhile ruling Liberal Party, said.
She said that another option could be for proponents of charter change to just introduce amendments instead of overhauling the whole charter.
"Now that there are questions on human rights, about democracy, if these will be good for us, it's worrying that these provisions can be endangered, so let's not open them," she said.