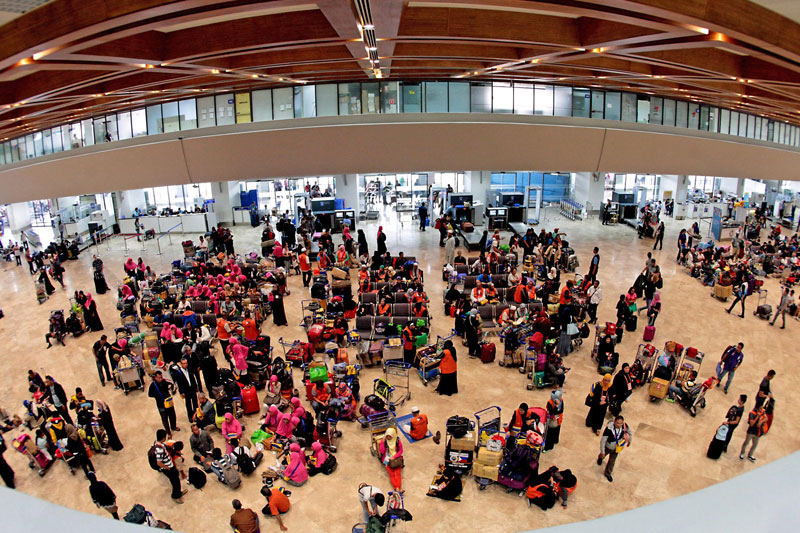 File photo shows the departure area of the Ninoy Aquino International Airport, which in the past has been named by travelers as among the worst for flight delays, congestion and overall bad passenger experience.
Kriz John Rosales
Survey: NAIA among world's most improved airports
MANILA, Philippines — From being rated as the world's worst, the Ninoy Aquino International Airport (NAIA) has been voted as the 10th among the World's Most Improved Airports.
The rating was based on voting conducted by Skytrax World Airport Awards from August 2017 to February this year among air travelers. It is the largest annual global airport customer satisfaction survey.
The most improved airport was Rome Fiumicino in Italy, followed by Perth in Australia,Calgary in Canada, Taiwan Taoyuan in Taiwan, Athens in Greece, Nadim in Fiji, Montreal in Canada, Moscow Sheremetyevo in Russia, Houston Intercontinental in the United States and NAIA in Manila.
The announcement was made during awarding ceremonies in Stockholm, Sweden on Wednesday.
According to Skytrax, an international air transport rating organization, the award for the World's Most Improved Airport is based on the relative year-on-year quality performance by all airports featured in the World Airport Survey, and takes into account the change in rating together with performance changes across the different product and service categories in the awards.
There are other categories for the awards, including the 10 best airports topped by Changi in Singapore for the sixth consecutive year.
The survey is operated as an independent study, with no entry fees or charges to any airport, and the awards ceremony is also provided to winning airports at no cost, Skytrax said on its website.
The 2018 awards are based on 13.73 million airport survey questionnaires completed by over 100 different nationalities of airline customers during the survey period, it added.
The survey covered 550 airports worldwide and evaluated traveler experiences across different airport service and product key performance indicators – from check-in, arrivals, transfers, shopping, security and immigration through to departure at the gate. The survey was available in English, Spanish and Chinese language options.
Manila International Airport Authority (MIAA) general manager Ed Monreal welcomed the news and attributed the result to the reforms in policy the government has implemented to reduce flight delays, decongest the airport, and improve the overall passenger experience.
"We had to make policy changes in terms of general aviation and maintenance of airport facilities, but the truth is that most of the policies are already in place and all we did was strictly implement them. You'd be surprised at how strict implementation of existing regulations made a whole world of difference," he said.
Among the reforms implemented in the NAIA are restriction on general aviation to prioritize commercial flights and reduce flight delays; imposition of the five-minute rule wherein pilots who declare they are ready for takeoff must depart within the prescribed time; putting in place cleaner toilets, additional seats, free wi-fi, and well-wishers' area; new policies for baggage handling; and addressing the laglag-bala (bullet planting) scheme.
But Monreal stressed, "We are only as good as our last accomplishment."
"The bigger challenge now is how to sustain it," Monreal added.
He expressed gratitude to the millions of passengers who took time to share their NAIA experience through the survey. "Their testimonies serve as inspiration for us to believe that change is not impossible even in the midst of trials."
"Hopefully we can sustain it and if possible, improve in our survey (ranking)," Monreal added.
He also said greater recognition goes to the men and women of the MIAA for their commitment and cooperation. Without them, Monreal said NAIA will not be able to achieve its small but meaningful transformation.
Transportation Secretary Arthur Tugade said in a statement the country has managed to shake off its image as having among the worst airports in the world.
"We are literally changing the headlines – from worst to most improved. I am happy and proud of what our NAIA and airport teams have done over the past two years. But this should not satisfy us. We need to work harder. Just a little more effort, we will go from worst to best," he said.
Philippine Airlines, Cebu Pacific and other local and foreign airlines operating at the NAIA congratulated MIAA for the accomplishment.
"This ranking highlights the importance of critical collaboration among aviation stakeholders. Clearly, all phases of the travel experience – from airport check in, departures and arrivals and transfers – are shared responsibilities by airport authorities and air carriers," PAL spokesperson Cielo Villaluna said in a statement.
Philippines AirAsia Inc. chief executive officer Dexter Comendador said NAIA's ranking is a positive development and shows the MIAA has maximized the capability of the terminals and runways.
"On-time performance has improved and all airlines get fair treatment. Unused slots have been eliminated, allowing more actual flights to happen. More on-time flights in a level playing field can only mean better service for the riding public," he said.
The World Airport Awards began in 1999, when Skytrax launched its first global airport customer satisfaction survey. In 2000, the survey attracted a worldwide completion of 1.02 million users, which has since grown annually, with the 2014 to 2015 survey achieving 13.02 million completed entries.
Skytrax said the focus is to deliver a customer survey and airport awards process that is independent, impartial and global, and this ethos remains essential to all aspects in the present day.
The survey and awards process is funded by Skytrax and is not a profit-generating operation.
Related video: