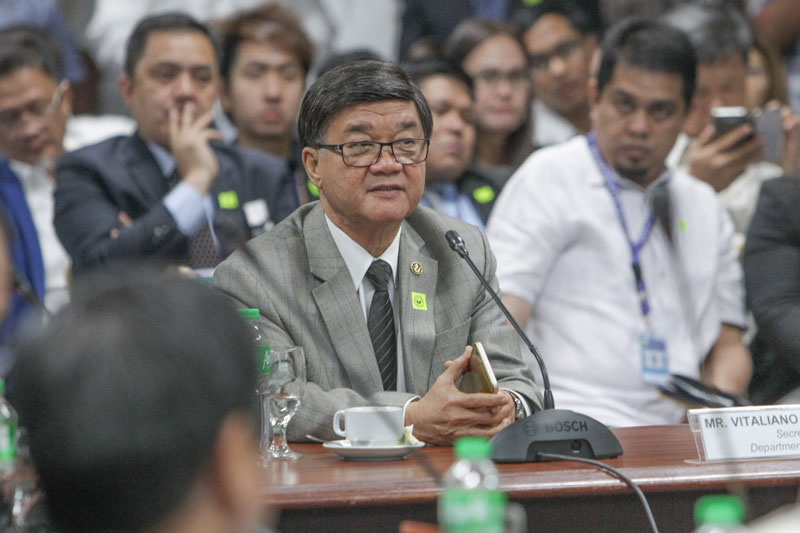 Aguirre maintained that he did nothing wrong and did not lose President Duterte's trust. File
Aguirre says he's not next on chopping block
MANILA, Philippines — Justice Secretary Vitaliano Aguirre II is not resigning despite calls for him to step down due to the Department of Justice (DOJ)'s controversial dismissal of charges against self-confessed drug lord Kerwin Espinosa and other personalities linked to the drug trade.
Aguirre maintained that he did nothing wrong and did not lose President Duterte's trust.
"There's no reason why I should resign kasi wala naman akong kasalanan (I did nothing wrong)," he said in a briefing at Malacañang yesterday.
Aguirre said he already explained his side to Duterte when they talked about Espinosa's case.
"I already talked to our President and I could not feel that whiff of no trust and confidence from him," he said.
Aguirre also claimed that the calls for his resignation are politically motivated, saying it happened after his son signified intention to run for a local post in Quezon and challenge the leadership of a reigning political family.
He accused a congressman of allegedly orchestrating his relief from his post.
"That's the work of a congressman at the House after he learned that my son will run for a local post in his district and we will fight their dynasty – Suarez, yes – he threatened me," he said in Filipino.
Aguirre also accused his critics of wanting to have him replaced.
He said his stay in office is at the pleasure of the President, and he will be ready to step down once told because he is not the type of person who clings to his post despite becoming unwanted.
"But even if I did not do anything wrong, if the President says… if I feel that he lost trust in me, I will resign immediately," Aguirre said.
"I will not cling to my position," he added.