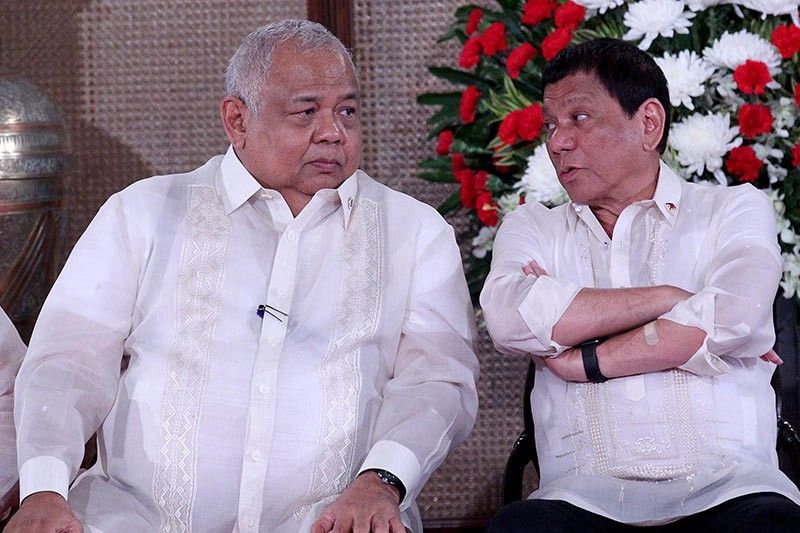 In this March 30,2017 photo, President Rodrigo Duterte speaks with Executive Secretary Salvador Medialdea during the awarding ceremony of the Go Negosyo's Inspiring Filipina Entrepreneurs 2017 at the Rizal Hall in Malacañan Palace.
Richard Madelo/Presidential Photo
Medialdea denies giving legal advice to Napoles camp
MANILA, Philippines — Executive Secretary Salvador Medialdea on Tuesday denied that he gave legal advice to alleged pork barrel mastermind Janet Lim Napoles' lawyer, Stephen David.
"Why would I give a legal advice to a lawyer for his client? If I were his client I will fire him," Medialdea said in a statement sent to press.
Medialdea issued the statement after David claimed he met with Medialdea and Justice Secretary Vitaliano Aguirre II at Malacañan regarding the jail transfer of his client.
David claimed the meeting happened after the Department of Justice granted state protection to Napoles.
According to David, Medialdea told him to file a motion for jail transfer before the Sandiganbayan which his camp followed last Friday. He filed a plea to transfer Napoles from Camp Bagong Diwa in Taguig to a new safe house.
David said he consulted Medialdea because he heads the executive department.