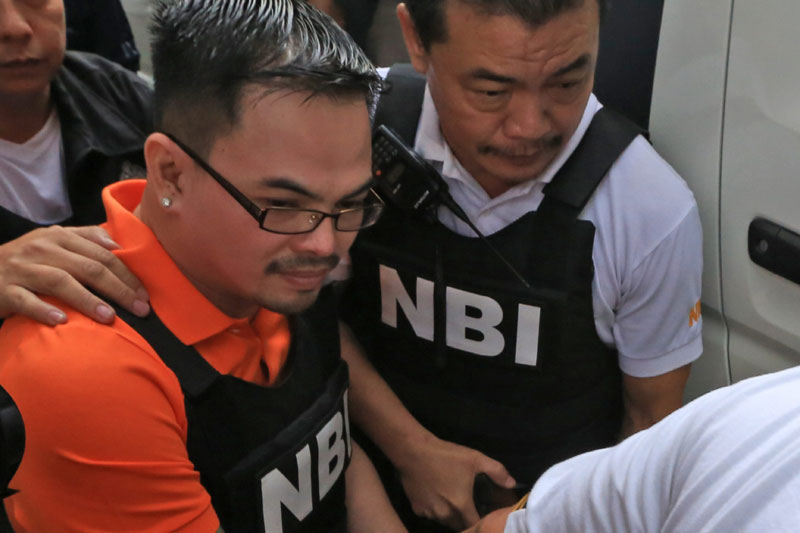 "The buck stops with me," Aguirre told a radio interview.
DOJ chief on Kerwin case: Buck stops with me
MANILA, Philippines — Justice Secretary Vitaliano Aguirre II said yesterday he is willing to resign if it is proven that he committed any wrongdoing in connection with the dismissal of drug trafficking charges against Kerwin Espinosa and Peter Lim.
"The buck stops with me," Aguirre told a radio interview.
"Since the case would be forwarded to me for automatic review, it could still be corrected. That is our promise to the President. Once the complaint reaches my office and I could not justify the dismissal (of the case), that could be a reason for my resignation," he added.
Aguirre said he advised the police Criminal Investigation and Detection Group, the complainant in the case, to secure a transcript of the Senate hearing when Espinosa admitted his involvement in the illegal drug trade.
Aguirre has ordered the National Bureau of Investigation (NBI) to look into the dismissal of the case against Espinosa, Lim, Peter Co and other suspected drug lords.
As secretary of the Department of Justice (DOJ), Aguirre said he himself is not exempted from the probe.
"Once proven that there was a violation of the law, then I am accountable as head of the DOJ," he said.
He believes that an insider linked to former justice secretary and now Sen. Leila de Lima could be responsible for leaking the DOJ resolution to the media.
Aguirre maintained that the prosecutor's resolution was not yet final since it still needs to be reviewed by his office.
"That is why we are wondering how this information reached the public. Somebody must have leaked the resolution," he said.
"Before I assumed the DOJ post, supporters of De Lima were still there. In fact, some of them helped in filing a case against me. She still has people (in the DOJ)," Aguirre said.
De Lima served as DOJ chief for six years.
Suarez dares Aguirre: Let's fight for Quezon gov
House minority leader and Quezon Rep. Danilo Suarez yesterday challenged Aguirre to fight with him for the gubernatorial post after the latter accused unnamed politicians in the province of riding on the exoneration by DOJ prosecutors of drug lords.
"Don't blame us for your problems. Why don't we fight for governor of Quezon in next year's elections?" Suarez said.
Another congressman, Robert Ace Barbers of Surigao del Norte, asked the justice secretary not to blame the House committee on dangerous drugs, which he chairs, for the clearing, again by DOJ prosecutors, of former Customs commissioner Nicanor Faeldon and other Customs officials in last year's smuggling of shabu worth P6.4 billion.
In a radio interview, Aguirre claimed that politicians, apparently including Suarez, were trying to erode his political support since he and his son were planning to run against the Suarez "political dynasty" in the 2019 polls.
Aguirre said three Quezon lawmakers were pushing for him to run for governor but he would most likely field his son Alex for the post.
He said he prefers to stay at the DOJ.
But if he will be asked by his classmate to seek a Senate seat, Aguirre, 71, said, "That's another story. May be I will run for governor."
Duterte and Aguirre were classmates at the San Beda College of Law.
"Instead of fielding his neophyte son, I urge Secretary Aguirre to run for governor against me," the elder Suarez, who is ending his three terms as representative of Quezon's third district, said.
"His son could run against my governor-son, who is also on his last term, in my district. They should make sure they would win in their hometown, Mulanay," he said.
Suarez said Aguirre should not blame others for his predicament and "should just explain the exoneration of Espinosa, Lim and Co."
"He should also explain his agency's clearing of Jack Lam in Clark, the release of hundreds of Chinese illegally working in Lam's resort and the involvement of his fraternity brothers in the extortion of P50 million from Lam," Suarez added.
The justice secretary also claimed the DOJ prosecutors dismissed the complaint against Faeldon and other Customs officers on the basis of a finding by the Barbers committee of "planting of evidence" in the P6.4-billion shabu smuggling case.
Barbers admitted there was such determination but said prosecutors should have filed the case in court on the basis of the committee's other findings.
"The fact alone that such a huge amount of shabu slipped through Customs was highly suspicious and questionable. The Philippine Drug Enforcement Agency, which was the complainant, asserted that there were several violations of procedures committed by Faeldon et al," he said.
"The job of Secretary Aguirre's prosecutors is to find probable cause to charge the respondents. They should not be concerned with sufficiency of evidence. Let the court determine that," he said.
Barbers said his committee found that there was evidence planting "in the so-called controlled delivery of 500 kilos of shabu from the Hong Fei Logistics warehouse in Valenzuela City to a nearby warehouse used by two alleged Taiwanese end users-drug dealers."
Hong Fei was the consignee of the shipment, contained in five metal cylinders. It was in its warehouse where Faeldon and his officers seized the contraband hours after it was taken out of the Customs area in Manila. Hong Fei owner Richard Tan is facing charges.
Barbers said Faeldon and his team opened one of the five metal cylinders, and after making sure that it contained shabu, decided on delivering it to the other warehouse so they could catch the two Taiwanese.
"The Taiwanese were not there and are still at large. Only the caretaker was arrested and charged. To us, what took place was evidence planting," he said.
Barbers said it was unfortunate that Aguirre's prosecutors have dismissed two high-profile drug-related cases – one involving former Customs officers, the other affecting big-time drug lords.
Aguirre on his way out?
Since Duterte had fired some of his closest allies in the past, Aguirre may be on his way out following the dismissal of drug complaints against suspected drug lords who have been subject of his administration's drug war, presidential spokesman Harry Roque hinted yesterday.
Roque did not rule out that Aguirre might suffer the same fate amid reports that Duterte expressed how upset he was upon learning that the complaint against suspected drug lord Espinosa and Lim was dismissed.
While he does not want to speculate, Roque said all presidential appointees should always take Duterte's words seriously even though at times he would joke on certain developments in the national scene.
Roque recalled that former interior secretary Ismael Sueno and former national irrigation administrator Peter Laviña were fired by the President for alleged corruption issues even if they were close to him.
At the height of the controversy about the dismissal of the complaints against Espinosa and his alleged cohorts, Duterte threatened to put Aguirre in jail in place of Espinosa if the latter goes scot free.
Roque, however, said Duterte's words should not be taken lightly even if it seems he was just joking or sarcastic about issues close to his heart.
"As far as I know, there is always something about his statements. I always said, 'Do not take the President literally because he always cracks jokes. But always take him seriously because there is a (hidden) message when he jokes'," he said.