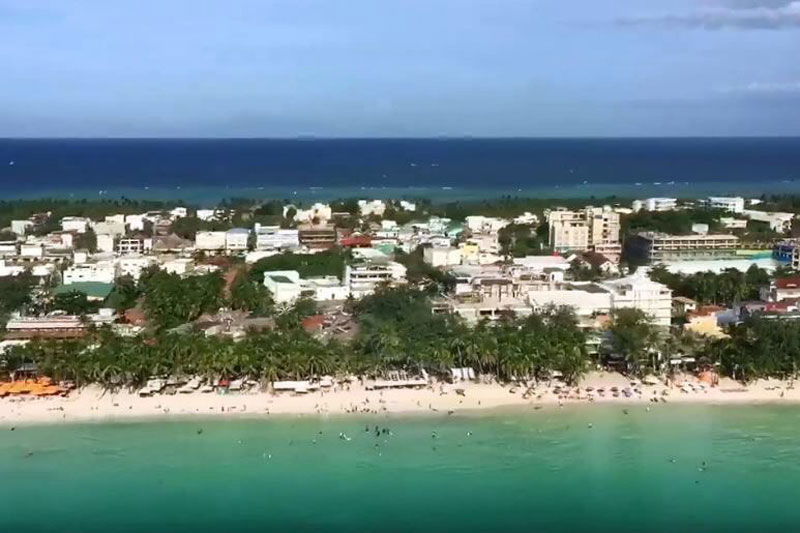 Presidential spokesman Harry Roque said the President has yet to formally get a copy of the recommendation pushed by the Department of Environment and Natural Resources (DENR), Department of Tourism (DOT) and Department of the Interior and Local Government (DILG). File Photo
Boracay closed for a year? 'Duterte will be fair'
MANILA, Philippines — Malacañang is inclined to accept the recommendation of a joint task force led by Environment Secretary Roy Cimatu for the closure of Boracay Island for one year to give government enough time to implement reforms in the country's prime tourist destination.
Presidential spokesman Harry Roque said the President has yet to formally get a copy of the recommendation pushed by the Department of Environment and Natural Resources (DENR), Department of Tourism (DOT) and Department
of the Interior and Local Government (DILG).
"The President said he would accept the recommendation but he will make the decision," Roque said in Filipino.
Roque noted that Duterte had also expressed concern about the impact of total closure of Boracay on small-time beach and business operators in the island.
He said the President might consider the request of small resort owners that could be hurt by the closure of Boracay.
Roque assured the public that the President will be more circumspect if ever he will abide by the joint task force's recommendation.
"I think that as far as I know the President, he will be fair and above all else I think he will not act on the basis of political considerations," Roque said.
He added that Duterte is keen on ensuring that the island will be reformed so that it could still be enjoyed by generations to come.
After the President went on a tirade last month over the rampant disregard of sanitation and violation of environment laws, Roque said the investigations will be beyond lifestyle checks.
He said Duterte ordered an investigation to file charges against local officials who could be held liable.
Duterte has mobilized the DILG and the police to make sure that the erring operators will be subjected to mandatory investigation.
Roque echoed the President's warning to all other businesses operating tourist destinations, especially the beaches, to make sure that they have not encroached on public space and that they are not violating environment standards.
DENR Undersecretary Jonas Leones said workers affected by Boracay's closure would receive government support.
He said that as early as now, they are already coordinating with the Department of Labor and Employment and the Department of Social Welfare and Development so that concerns and needs of displaced workers will be properly addressed.
"I'm hoping that there wouldn't be massive displacement at all, and alternative livelihood will be available for them," Leones said.
Senators' appeal
Senators asked yesterday the government not to push through with its plan to temporarily shut down Boracay Island, warning the administration that such a move could displace some 17,000 to 30,000 workers.
Sen. Joel Villanueva, chairman of the Senate committee on labor, said a total shutdown of Boracay should not be undertaken without a clear, realistic and time-bound plan of action.
"The full closure of Boracay could cripple our local tourism industry. It could also have a devastating economic impact on the businesses that are compliant, and for the formal and informal workers who rely on the island for their livelihood," Villanueva said.
He said the Boracay local government and concerned national agencies should simply ensure compliance with relevant laws, including the Clean Air Act, Clean Water Act and Solid Waste Management Act.
Sen. Sherwin Gatchalian said most of the workers dependent on Boracay are considered low-skilled and poverty and hunger would worsen if unemployment would rise with a total closure.
Gatchalian proposed several measures in lieu of a total shutdown, including the closure and filing of cases against the 300 violators of the building code and environmental laws; filing administrative cases against erring local officials; mandating businesses within 30 days to improve their waste disposal systems; and a long term and sustainable master plan for everyone on the island to adhere to.
Sen. Nancy Binay, chair of the Senate committee on tourism, said she was bothered by the apparent lack of concrete plans from the DOT and DENR on what to do for those who will be displaced by the shutdown.
"A phase-by-phase rehabilitation where government can strictly enforce the law and at the same time implement the needed corrective measures could be the better option for Boracay," Binay said.
Sen. Joseph Victor Ejercito, however, said a total but temporary shutdown of Boracay is worth considering since the island has been exploited through the years.
"Boracay has to be allowed to breathe, to recuperate and to be allowed for its wounds to heal," Ejercito said.?"We might as well save Boracay which is one of our country's treasures and enjoy it longer than to see its demise if we do not do something about it," he said.
The management of D'Mall of Boracay, a commercial complex in Barangay Balabag, had denied allegations that their commercial establishment is built on wetlands.
Based on tax declaration documents filed with the local government, the area where the complex was constructed was classified as commercial, agricultural, residential and 'cocal', referring to lands planted with coconut trees, D'Mall said in a statement.
Rudolph Jularbal, D'Mall head of legal and regulatory compliance group, said that "as a matter of good corporate governance and being a pioneering developer in Boracay, we have always known that it's the pristine beauty of the island that makes it a global attraction."
The D'Mall projects from 1999 until the present were covered by the appropriate Environmental Compliance Certificates.
The firm's management has worked closely with the DENR, local government and experts to undertake in-depth environmental impact assessments and monitoring of the area. Paolo Romero, Rhodina Villanueva
Related video: