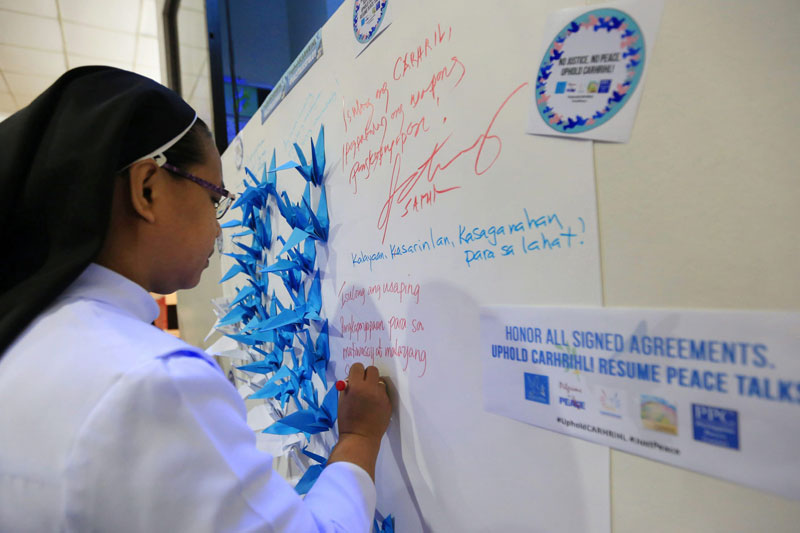 Sr. Mary Frances Dizon of St. Scholastica's College in Manila writes a message on a peace wall seeking the resumption of peace talks between the government and the National Democratic Front. Edd Gumban
Duterte urged: Respect rights agreement
MANILA, Philippines — The militant peasant group Kilusang Magbubukid ng Pilipinas (KMP) yesterday called on President Duterte to respect and abide by the Comprehensive Agreement on Respect for Human Rights and International Humanitarian Law (CARHRIHL) signed with the communists 20 years ago.
"CARHRIHL is a landmark agreement signed by both the Government of the Republic of the Philippines and the National Democratic Front. In case President Duterte forgot, the government entered without reservation into CARHRIHL. But as history would recall, the government has totally violated the CARHRIHL through successive counterinsurgency operations," KMP chairman Danilo Ramos said.
The KMP said the government reneged on the agreement and its supposed separate duty and responsibility to uphold, protect and promote the principles of human rights and the principles of international humanitarian law.
Worse, Duterte is even threatening international institutions like the United Nations and the International Criminal Court, Ramos said.
KMP said CARHRIHL compelled the government to repeal repressive laws and decrees such as authorizing checkpoints and warrantless searches, allowing the filing of charges of illegal possession of firearms with respect to political offenses, requiring physicians to report cases of patients with gunshot wounds to the police/military, restricting and controlling the right to peaceful assembly, legalizing the Citizens' Armed Force Geographical Units and allowing the imposition of food blockades.
"Duterte is now doing the exact opposite by systematically implementing a step-by-step martial law," Ramos said.