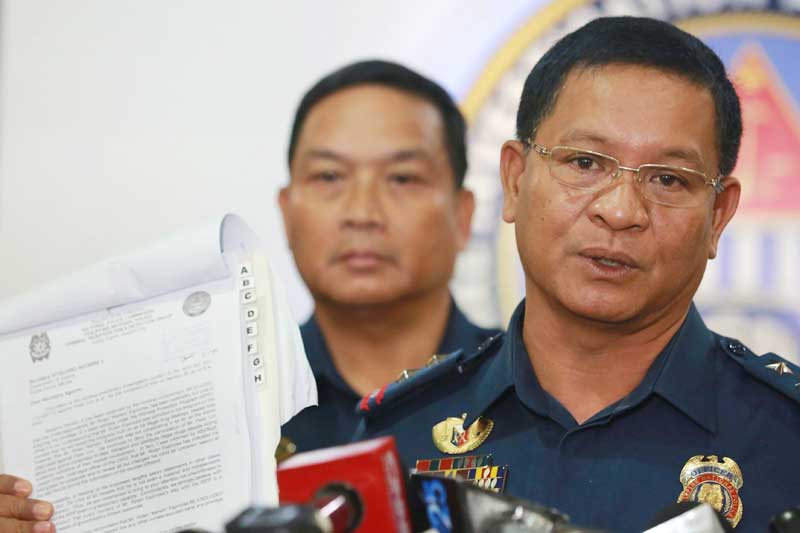 CIDG chief Director Roel Obusan explains the agency's side on the dismissal of drug charges against Kerwin Espinosa and several others during a press conference at Camp Crame yesterday. Michael Varcas
CIDG subpoena powers to boost case vs Kerwin Espinosa, others
MANILA, Philippines — The police Criminal Investigation and Detection Group (CIDG) will exercise its subpoena powers to strengthen its case against suspected drug lords Kerwin Espinosa, Peter Lim and other personalities with alleged links to illegal drugs.
CIDG chief Director Roel Obusan said yesterday they are open to using the powers granted under Republic Act 10973 signed by President Duterte.
"We will work hard again. We will use all available tools of investigation and one of the available tools is the subpoena powers," Obusan said in a press briefing in Camp Crame, Quezon City.
"If there is a need for me to use subpoena powers when I can already apply it, why not," he added.
In RA 10973, the subpoena powers were restored to the Philippine National Police chief and the CIDG's director and deputy director for administration in aid of their investigation of cases.
The police officials can compel witnesses to submit testimonies and documentary evidence. Those who refuse to comply could be charged with indirect contempt.
However, Obusan said they will not use the subpoena powers on Espinosa as he is an accused and has the right against self-incrimination.
In its resolution dated Dec. 20, 2017, the DOJ dismissed the complaint filed by the CIDG against Espinosa, Lim and at least 20 others, citing weak evidence.
Obusan said they only received a copy of the resolution on Feb. 7, 2018. They filed a motion for reconsideration on Feb. 19.
The DOJ scored the CIDG for presenting a lone witness in the person of Espinosa's driver and bodyguard, Marcelo Adorco, for inconsistencies in his testimony on the alleged involvement of Espinosa in the drug trade.
In an interview over dzMM, Justice Secretary Vitalliano Aguirre II blamed the CIDG for not including as evidence Espinosa's confession of his involvement in the illegal drug trade in the Visayas during a Senate public hearing in November 2016.
Obusan, however, defended their decision not to include Espinosa's Senate testimony, which was taken under oath.
According to the police official, they considered Espinosa's statement at the Senate, expecting the suspected drug lord would corroborate Adorco's revelations during a preliminary investigation.
Obusan explained that the problem is that Espinosa refused to cooperate.
Had the suspected drug lord cooperated, the police official said it would have strengthened their case.
"To my dismay, Kerwin refused to talk," Obusan said, adding he even communicated his concerns to Aguirre through a letter in September 2017.
Espinosa has the right not to cooperate, being an accused, Obusan said, and they relied on Adorco's statements as direct participant in the crime. – Delon Porcalla
Related video: