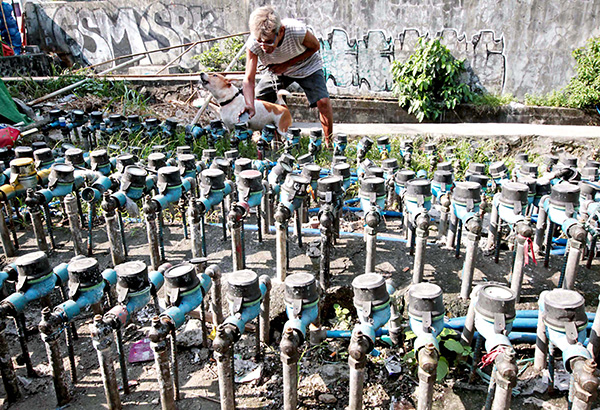 The MWSS Board of Trustees has approved the recommendation of the MWSS-Regulatory Office for the second quarter FCDA rates of concessionaires Maynilad Water Services Inc. and Manila Water Co. Inc. for the decrease in rates. Philstar.com/File Photo
Water rates slightly down this summer
MANILA, Philippines — Customers will be greeted with slightly lower water rates this summer as the Metropolitan Waterworks and Sewerage System (MWSS) approved its concessionaires' implementation of a decrease in their foreign currency differential adjustment (FCDA).
The MWSS Board of Trustees has approved the recommendation of the MWSS-Regulatory Office for the second quarter FCDA rates of concessionaires Maynilad Water Services Inc. and Manila Water Co. Inc. for the decrease in rates.
Maynilad's average downward adjustment is equivalent to P0.01 per cubic meter while that of Manila Water is a decrease of P0.04 per cu.m. of its basic charge.
"The reason for the rollback is that average exchange rate of peso appreciated vis-a-vis the dollar in January and even if it depreciated in February and March, timing-wise, we were not affected by that," MWSS chief regulator Patrick Ty said in a briefing yesterday.
"The rollback is very minimal, it's just cents per month, but we should look at it as a glass half full instead of a glass half empty," he added.
The rate rollback means that Maynilad residential customers consuming an average of 10 cu.m. or less every month will se their bill lower by P0.06 per month while those consuming 20 cu.m. will have a P0.23 decrease in their water bills.
Those using more than 30 cu.m. will experience a decrease of P0.46 per month.
Meanwhile, Manila Water customers who consume up to 10 cu.m. per month will have a decrease of P0.20 while those consuming an average of 20 cu.m. will have a downward adjustment of P0.45.
Customers using 30 cu.m. will be affected by downward adjustment of as much as P0.91 per month.
Adjusted rates for both Maynilad and Manila Water will be effective starting April 1.
FCDA is the tariff mechanism granted to utility companies to allow them to recover losses or give back gains arising from the fluctuating movements of the peso against other currencies, as the concessionaires pay foreign-dominated fees as well as loans to fund projects that will improve service for their customers.