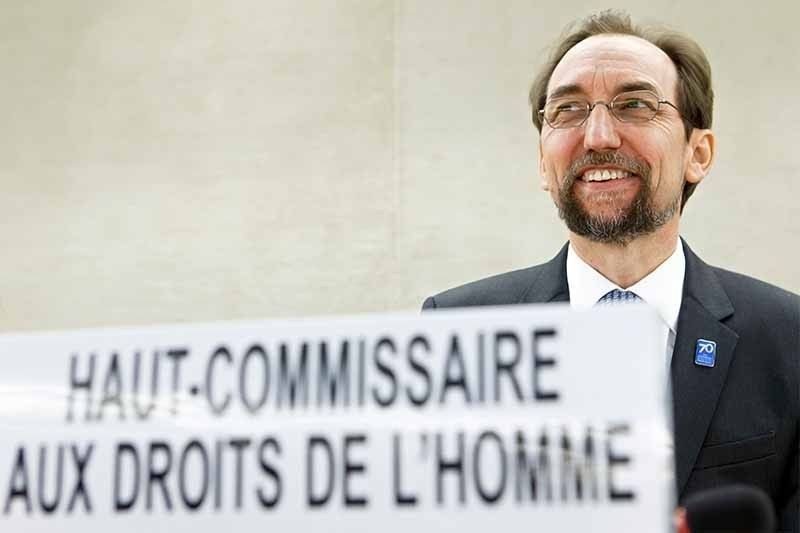 Jordanian Zeid Ra'ad al Hussein, UN High Commissioner for Human Rights, delivers his annual report, during a session of the Human Rights Council, at the European headquarters of the United Nations in Geneva, Switzerland, Wednesday, March 7, 2018. Keystone via AP/Salvatore Di Nolfi, File
Palace: States should call out UN High Commisioner like China did
MANILA, Philippines — China's defense of President Rodrigo Duterte in the face of critical remarks from a United Nations official is the right stand of any member state of the world body, a Malacañang spokesman said on Tuesday.
According to presidential spokesman Harry Roque, UN officials cannot deal with elected heads of state in the manner that UN High Commissioner for Human Rights Zeid Ra'ad Al Hussein did.
"I think that would be the correct response of any member state of the United Nations," Roque said.
On Friday, Al Hussein said that Duterte might be in need of a "psychiatric evaluation" following his volley of verbal attacks against special rapporteurs and in response to the inclusion of special rapporteur Victoria Tauli-Corpuz in a list of people the government wants formally declared as terrorists.
Zeid said that it was "disgraceful" that a leader of a country could speak using the "foulest of language" on highly-respected UN officials such as rapporteurs.
This prompted China, which has a spotty human rights record, to call out Zeid for his comments.
The Chinese Foreign Ministry said that the government of Duterte had "won great approval and extensive support" among the people.
It also said Duterte made "positive efforts" since assuming office to combat crimes and terrorism, develop the national economy and improve people's livelihood.
The ministry spokesman said that the UN, including Zeid, should look at the outcome of the government's campaign against illegal drugs in a "comprehensive, unbiased and objective way."
Roque said that China's response was not just because of the improving ties between Manila and Beijing.
"So all officials of the United Nations must in fact discharge their functions towards realizing the avowed goals of the UN system and should not resort to abusing and disrespecting elected heads of states of UN member states," Roque said in a press conference at the palace. It is unclear how Roque expects the UN to deal with the heads of member-states who were not elected into office.
The palace severely criticized Zeid last weekend for his comments although Duterte himself has cursed and ranted at world leaders including Barack Obama while still US president.