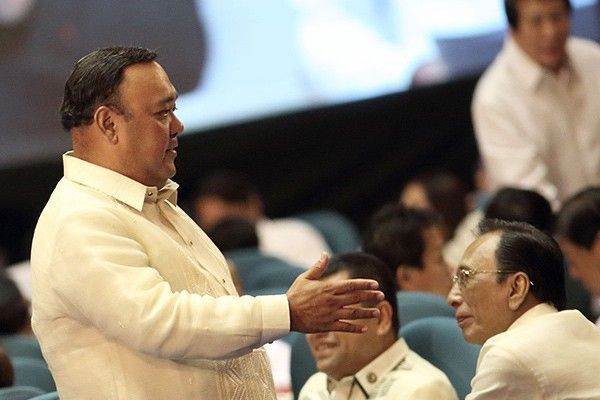 Presidential spokesperson Harry Roque said that the Office of the President is "very interested in this case and will closely monitor the police."
AJ Bolando
Palace 'worried' over dismissal of cases vs Kerwin Espinosa, Peter Lim
MANILA, Philippines — Malacañang said on Tuesday that it is "worried" after the Department of Justice dismissed drug charges against Kerwin Espinosa and presidential campaign supporter Peter Lim for lack of probable cause.
In a press briefing, presidential spokesperson Harry Roque said a lifestyle check on DOJ prosecutors, although premature at this stage, is possible if Justice Secretary Vitaliano Aguirre found evidence to sustain the presence of probable cause in the drug cases.
He also assured the public that the decision to dismiss drug complaints against Espinosa, Lim, alleged New Bilibid Prison drug trafficker Peter Co, Max Miro, Ruel Malindangan, Jun Pepito, Lovely Adam Impal and 12 others would still be reviewed by Aguirre.
"I can confirm that we are worried about the dismissal of the case, but we don't know yet the basis of the decision and the review process is not yet over," Roque told reporters.
"We would like to assure the public that the dismissal is far from being final. It is subject to automatic review by Sec. Vitaliano Aguirre, and we look forward to the review to be made by Secretary Aguirre," Roque said.
Roque said that the police could also refile the case against the suspected drug criminals and provide additional evidence.
He also defended the Philippine National Police from accusations that it was remiss in its duties to file airtight cases against the suspected drug criminals.
He said that the Office of the President is "very interested in this case and will closely monitor the police," adding that any government official or officer found coddling drug criminals would face sanctions and dismissal.
"We will not allow a big fish to go away if there is evidence to go after him," he said.
"This is one decision that the Palace and the DOJ will talk about," Roque said.
The Philippine Drug Enforcement Agency meanwhile has yet to comment as it has not received a copy of the decision, according to its spokesperson, Derrick Carreon.
The DOJ on Monday cleared Espinosa, Lim, Co and others of drug charges for lack of probable cause in the complaint about the sale, administration, dispensation, trading, delivery and transportation of illegal drugs under Republic Act 9165 or the Comprehensive Dangerous Drugs Act.
The 41-page resolution was dated Dec. 20, 2017, and was released only on Monday.
Roque, however, said that even if some of these suspects appeared on the drug list of President Rodrigo Duterte, it does not mean that he would not accept results other than an indictment.
He also said that calls for lifestyle checks on DOJ prosecutors were still "premature."
"If Secretary Aguirre determines that there is ample evidence to sustain the finding of probable cause, then perhaps we have no option to conclude that it's possible," he said.
Roque said that the decision would also not affect the drug charges against Sen. Leila De Lima, who was supposedly given campaign money from drug trade by Espinosa.
Related video: