China calms 'debt-trap' fears: Natural resources won't be used as collaterals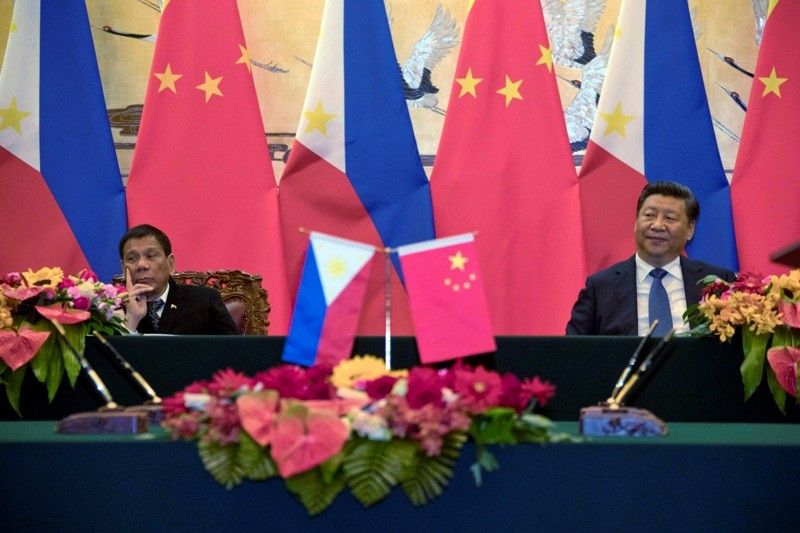 MANILA, Philippines — China on Friday belied a report carrying a scholar's comment saying the Philippines could use its natural resources as collateral for Chinese loans, as it seeks to douse growing fears that the Southeast Asian nation could fall into a debt-trap.
The Philippine government expects to sign three loan agreements with China this year.
In a report by Chinese state-run newspaper Global Times dated March 4, Xiamen University's Southeast Asian Studies Center head Zhuang Guotu explained that Manila can easily repay the loans considering the country's "strong debt-paying ability."
Zhuang likewise insisted that Chinese soft loans have "very low" interest rates. Funding deals, he said, are usually accompanied by repayment agreements that will allow the Philippines to swap key assets like natural resources "as collateral."
In a press conference in Beijing, Foreign Ministry Spokesperson Geng Shuang distanced the Chinese government from Zhuang's view.
The Chinese spokesman stressed that by convention, parts of China's concessional loans require the borrowers to use certain sovereign credit as collateral, which he said is an international practice.
"China has never asked and will never ask relevant countries to use natural resources as collateral in loan agreements," Geng said.
"In this vein, our assistance and support to the Philippines are provided with no strings attached," he added.
Last year, Vice President Leni Robredo cited Sri Lanka's recent dealings with Chinese loans as a cautionary tale for the Philippines.
Struggling to pay its obligation, Sri Lanka in December last year gave the strategic port of Hambantota to Beijing on a 99-year lease as a way of repaying its debt to China.
Not connected to sea dispute
Critics have warned that the Philippines could be the next victim of what they say is China's "debt-trap diplomacy," where the Asian power gives "friendly" loans to bankroll infrastructure projects in financially weak states in exchange for regional access.
Despite President Rodrigo Duterte's warm relations with China, the Philippines has a long history of mistrust of it as the two countries continue to spar over the South China Sea.
Members of the opposition have repeatedly criticized Duterte for setting aside a ruling from a United Nations-backed tribunal that favored Manila and invalidated Beijing's claim to sovereignty over most of the resource-rich waters.
According to Geng, China would not link its maritime spat with the Philippines to bilateral economic and trade cooperation projects.
"China stands ready to work with the Philippines to follow through on the consensus between the two leaderships and stay committed to properly resolving differences through dialogue and consultation," he said.
Socioeconomic Planning Secretary Ernesto M. Pernia earlier said the Philippines can tap Chinese funding with interest rates of 2-3 percent, more expensive than Japanese soft loans which only have 0.25-0.75 percent rates.
The Duterte administration is depending on a mix of foreign borrowings, budgetary allocations and private funding for its P8 trillion infrastructure plan.