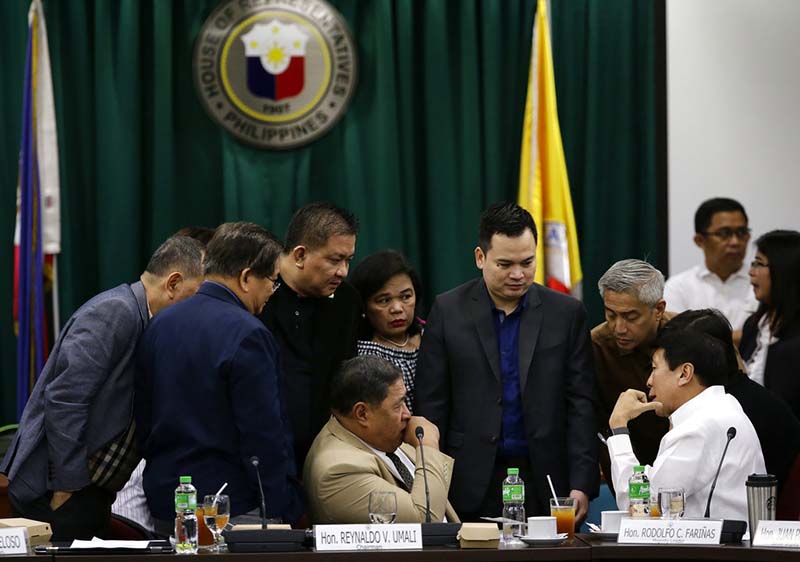 House Committee on Justice chairperson, Representative Reynaldo Umali, center seated, and House Majority leader Rodolfo Farinas, seated right, talk with staff and other congressmen during a hearing at the House of Representatives in metropolitan Manila, Philippines, Thursday, March 8, 2018. The justice committee of the Philippines' House of Representatives, which is dominated by the president's allies, voted overwhelmingly to proceed with a case to impeach the Supreme Court Chief Justice Maria Lourdes Sereno, who vowed to fight the ouster move. AP/Aaron Favila
No probable cause to impeach Sereno, says Makabayan bloc
MANILA, Philippines — The impeachment complaint against Chief Justice Maria Lourdes Sereno failed to prove that the embattled chief magistrate had done anything deemed impeachable, members of the Makabayan bloc said Thursday.
"Contrary to the position taken by the majority members of the committee on justice, the impeachment complaint [filed by lawyer Larry Gadon] failed to show probable cause that CJ Sereno committed any impeachable offense," they said.
The statement came after the House justice panel, voting 38-2, declared on Thursday that Sereno should be impeached from her position as chief justice.
READ: House panel votes to impeach Sereno
The minority solons noted that the committee, without enumerating the grounds for impeachment, proceeded to voting whether or not there was a probable cause.
They called the proceeding "highly irregular" and "unprecedented" as it denied the due process to Sereno.
"The members of the committee voted as to the existence of probable cause without knowing or informing the public, especially the respondent CJ Sereno, as to which ground for impeachment such probable cause exists," the Makabayan bloc said.
They added: "What is sure that this ceremonial voting by the committee is part of the orchestrated and systematic maneuvering by the Duterte administration and its minions to force the CJ to resign."
The camp of Sereno said that it was no surprise that the House panel voted that there is a probable to impeach her.
READ: Sereno camp on House panel votes: It's no surprise
The minority lawmakers also lamented that the committee proceedings, which spanned for many months, became a platform to expose the infighting at the judiciary and a venue for fishing expedition.
They also reiterated that the quo warranto filed by Solicitor General Jose Calida questioning the validity of Sereno's appointment proves that the chief magistrate's detractors "are not convinced of the merits of the impeachment case."
"Nevertheless, despite this sorry state of our governance, one thing remains true—that the committee, despite many months of hearings, failed to show to the Filipino people any convincing ground to impeach the CJ," the Makabayan bloc said.
The members of the Makabayan bloc include: Rep. Antonio Tino (Act Teachers), Rep. France Castro (Act Teachers), Rep. Emmi de Jesus (Gabriela), Rep. Arlene Brosas (Gabriela), Rep. Carlos Zarate (Bayan Muna), Rep. Ariel Casilao (Anakpawis) and Rep. Sarah Elago (Kabataan).
Related video: