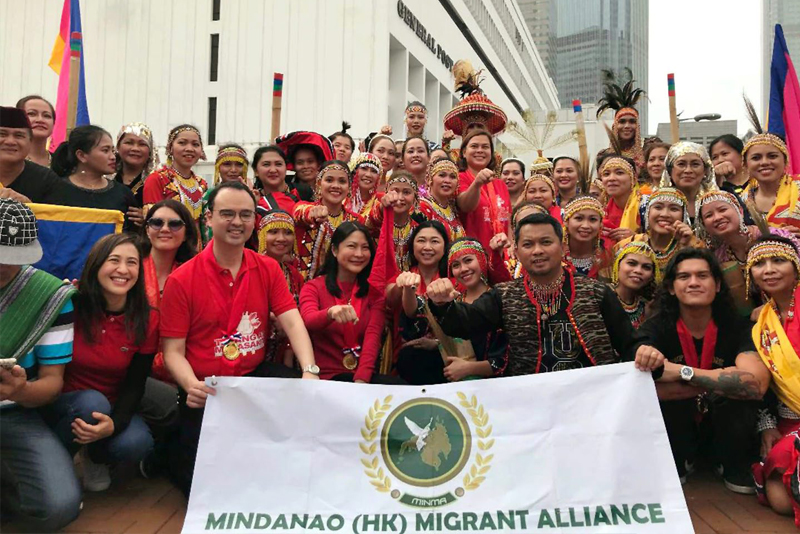 The Tapang at Malasakit Alliance was in Hong Kong yesterday to thank the throngs of overseas Filipino workers for their support to President Duterte and his administration. Joining Davao City Mayor Sara Duterte-Carpio and members of the Mindanao HK Migrant Alliance are Foreign Affairs Secretary Alan Peter Cayetano, Taguig Rep. Pia Cayetano, Taguig Mayor Lani Cayetano, Quezon City Vice Mayor Joy Belmonte, DPWH Usec. Karen Jimeno and Sebastian Duterte. Janice Lao
Sara: God's plan, not mine
(The Philippine Star) - February 26, 2018 - 12:00am
DAVAO CITY, Philippines — Her future in politics will be according to God's plan and not hers, including a possible presidential run in 2022, said Mayor Sara Duterte-Carpio.
"It is always God's plan na masusunod. Ilalagay ka talaga ng Diyos kung saan ka man (God will put you where you are meant to be)," Duterte-Carpio told a cheering crowd of overseas Filipino workers (OFWs) who came to see her at the Tapang at Malasakit Alliance for the Philippines gathering at Chan Meng Kam Theater in Macau last Saturday.
The crowd was shouting and egging her to run for president, replacing her father when he steps down from office in 2022.
But the younger Duterte refused to give in to what the crowd wanted to hear from her about her political plans, although she said a Senate seat is out of the question.
The presidential daughter and other members of Tapang at Malasakit held a separate gathering yesterday afternoon at the Post Office in Central Hong Kong that drew thousands of OFWs mostly on their day off.
Duterte-Carpio profusely apologized to the OFWs that it took her family two years to personally thank them for their support for the Duterte administration.
"We would have wanted to come earlier but it is only now that we are able to finally find the time and our schedules fit," said the mayor, who was accompanied by her younger brother Sebastian.
Foreign Affairs Secretary Alan Peter Cayetano, Tapang and Malasakit convenor and Taguig Mayor Lani Cayetano, Vice Mayor Joy Belmonte of Quezon City, Public Works Undersecretary Karen Jimeno, assistant secretary Mocha Uson of the Presidential Communications Operations Office and actor Robin Padilla were also with the presidential daughter.
"Our family is eternally indebted to you for the opportunity you gave our father to serve you. Salamat sa inyong lahat (Thank you everyone)," Duterte-Carpio added.
"Nandito kami para magpa-picture (We're here to have our pictures taken)," Duterte-Carpio said in jest, adding that she would not leave the venue until the last OFW asking for a photo with her has left.
Meanwhile, Duterte-Carpio cited the courage and sacrifice that OFWs have to make to be able to provide for their families.
"Saludo ako sa tapang at malasakit ninyo (I admire your courage and selflessness)," the mayor said.
Duterte-Carpio likewise expressed her admiration to soldiers who dedicate their lives defending and protecting the country and are also away from their families most of the time.
The mayor quipped that she could also never be a soldier because she would probably run away, leaving her weapon behind if she would be confronted by the enemy.
She added that her family is always on top of her mind, wanting to be with her three children, especially in their growing up years.