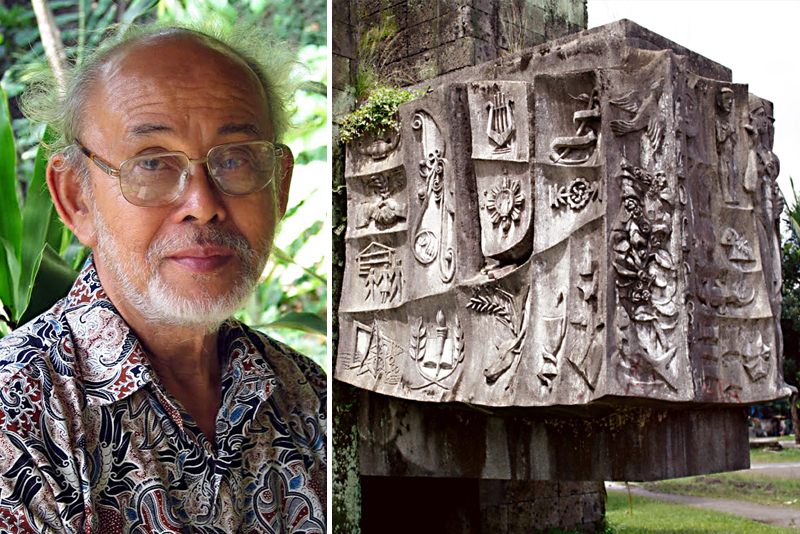 The Armed Forces of the Philippines honored the late national artist with a full military salute as his remains were brought to the CCP from the UP Chapel where he had laid in state. Philstar.com/File Photo
Necro rites for national artist Napoleon "Billy" Abueva at CCP
(The Philippine Star) - February 26, 2018 - 12:00am
MANILA, Philippines — The nation paid tribute to the late National Artist for Sculpture Napoleon "Billy" Abueva with a Pagdadalamhati ng Bayan last Saturday at the Cultural Center of the Philippines' Main Theater.
The Armed Forces of the Philippines honored the late national artist with a full military salute as his remains were brought to the CCP from the UP Chapel where he had laid in state.
Other national artists paid homage while CCP resident companies Ballet Philippines, Philippine Philharmonic Orchestra and Philippine Madrigal Singers, along with sopranos Maria Blanca Kristi Buesa and Katrina Marie Saga, Loboc Children's Choir and violinist Coke Bolipata, celebrated the life and works of Abueva through music and dance.
Interment at Libingan ng mga Bayani followed immediately after the necrological service.
Abueva became the youngest, at age 46, to receive the National Artist Award in 1976. Acknowledged as the father of modern sculpture in the Philippines, Abueva was cited as "an artist of unquestioned power and seriousness."
A "born experimenter," he sought to extend the boundaries of his art, inventing "buoyant sculpture" which seem to "float" above ground or water.
But those who paid tribute to him during Saturday's necrological ceremony recalled Abueva's playfulness and infectious humor.
He made up songs and poems, often with a naughty twist. He would surprise lady friends by going to their homes or offices or during occasions with a red rose, sometimes accompanied by poetry.
His generosity of spirit and bigness of heart were legendary, as he mentored and nurtured countless young artists over decades as dean and professor at the UP College of Fine Arts.
He died last Feb. 16 at the age of 88.