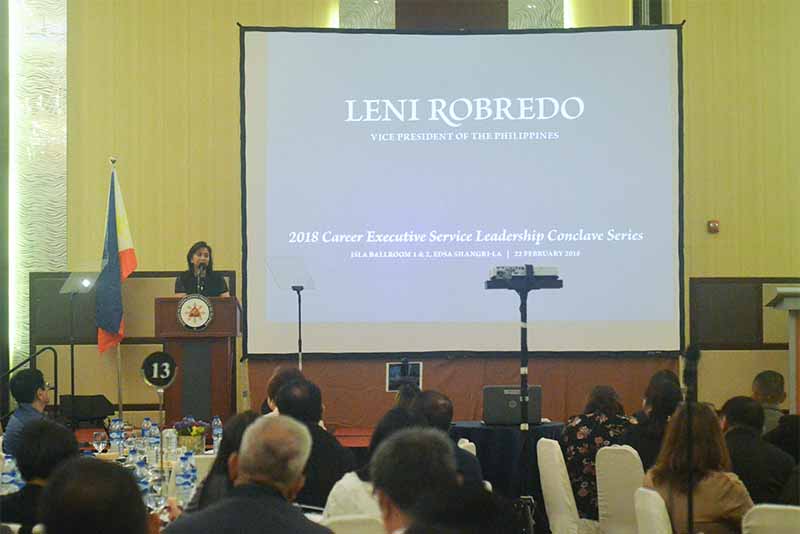 Vice President Leni Robredo was invited to deliver the keynote address at the Career Executive Series Leadership Conclave in EDSA Shangri-la Manila this morning, February 22, 2018. She encouraged officials to keep fighting the good fight and to uphold truth, honesty and integrity in public service. Office of the Vice President, Released
Robredo camp: PET resolution shows VP has no pending motion
MANILA, Philippines — The camp of Vice President Leni Robredo on Thursday said that a resolution from the Presidential Electoral Tribunal had proven that it did not have any pending motion before the body.
In a statement, Bernadette Sardillo, one of Robredo's lawyers, said the PET resolution also demonstrated that the camp of former Sen. Ferdinand "Bongbong" Marcos had in fact not filed a motion to withdraw all his pending pleadings before the tribunal.
"A reading of the Resolution shows that the PET has noted our filing of the motion to withdraw and the tribunal further noted that we do not have any pending motion before the court," Sardillo said in a statement.
The camp of the son Bongbong Marcos earlier claimed that the vice president was delaying the resolution of his electoral case, in which the former senator accused Robredo of fraud after she beat him by more than 260,000 votes.
Marcos dared the vice president to "withdraw all and any pending motions" before the PET, so the recount in three pilot provinces he identified could commence.
However, a two-page resolution from the PET said, "Based on the records of this case, the Tribunal finds that there are no such pending motions from protestee (Robredo)."
The resolution also urged the parties to observe the sub judice rule, which would essentially restrict comments and disclosures on ongoing legal proceedings.
"As we have always done, we will fully abide by the Presidential Electoral Tribunal's latest order," Sardillo said.
The PET also asked the son of the late strongman to inform the tribunal if he intended to file a motion to withdraw all pending motions to hasten the case, essentially showing that Marcos was yet to withdraw his court filings.
Following his challenge to the vice president, Marcos signed a motion which would purportedly withdraw his pending motions before the PET.
However, Romulo Macalintal, another election lawyer of Robredo, said that the documents signed by Marcos were just a mere manifestation and not a motion to withdraw, the document that the vice president signed.
"On the other hand, the PET has also noted that Mr. Marcos did not file a similar motion and has in fact asked him to inform the tribunal if he intends to file a similar motion to withdraw all pending motions," Sardillo said.
Should Marcos succeed in snatching the vice presidency from Robredo, this marks a big step in his family's efforts to rehabilitate its name and reclaim the presidential palace 32 years after his father was ousted from power. In recent years, he, his sister Imee and mother Imelda have occupied local and national posts.