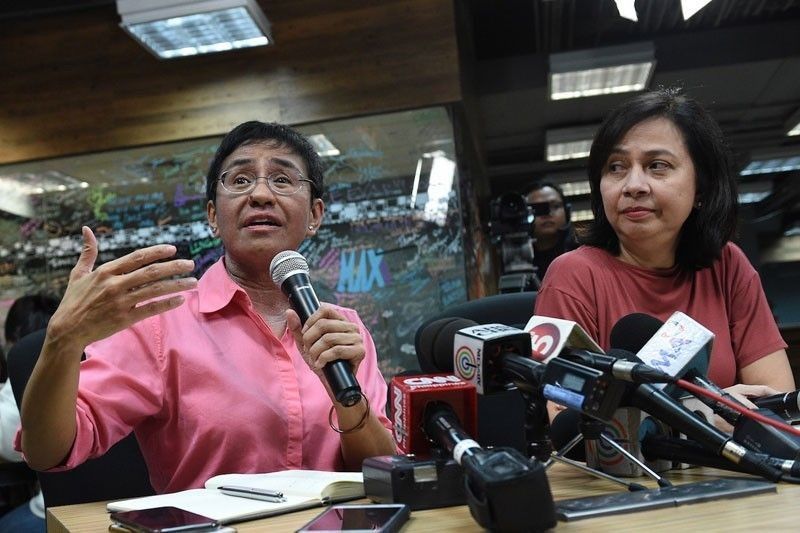 Rappler chief Maria Ressa and a former investigative reporter were summoned by the National Bureau of Investigation over a complaint by a businessman for alleged violations of the country's Cybercrime Law.
AFP/File
Rappler tells Roque: Ban a clear case of intimidation
MANILA, Philippines — Online news outfit Rappler on Wednesday maintained that President Rodrigo Duterte's decision to ban its reporter from entering Malacañang is an attack on press freedom.
The news site was reacting to the statement of presidential spokesperson Harry Roque Jr. that the president's order is "not an attack on press freedom."
"It is not the government's role to say who can cover what, and when and where. There is a clear line between a nation's officials and the press whose job it is to hold them accountable by informing the public of their actions," Rappler said in a statement.
It said the move of the chief executive is a "clear case of intimidation."
In a radio interview, Roque, who was once a press freedom advocate, said that Duterte got "irritated" with Rappler journalist Pia Randa and with the news outfit, which led him to issue the ban.
In a statement Wednesday afternoon, the president's mouthpiece said that the decision stemmed from Rappler's uncertain status as a Filipino corporation and its alleged propensity to spread the so-called "fake news."
Roque added that getting a temporary restraining order was one of the ways that Rappler could have done to avoid its current situation.
READ: Roque to Rappler: Fix ownership, reporting issues before calling for press freedom
But Rappler said it did not apply for a TRO as the Securities and Exchange Commission had declared that it is not executing its decision until it becomes final and executory. It had filed a petition questioning the SEC shutdown order before the Court of Appeals.
"Judging from the actuations of this administration, you will find another way to bar us even if we get a TRO. It is a barefaced assault on the right of all journalists to do their job," it said.
Malacañang on Wednesday night confirmed that Ranada had been barred from entering the whole presidential complex and not just the Palace.
Thus, I've been banned from Harry Roque's press briefings. No more opportunity to ask questions in person, make follow-ups, participate in ambush interviews. I'll definitely miss that. I didn't realize today would be my last day in Malacañang. Breaks my heart. https://t.co/oW64IYOpsW

— Pia Ranada (@piaranada) February 21, 2018
Rappler has been one of the most critical media outfits under Duterte, often publishing stories that put the president, his men and his policies under intense scrutiny.
Recently, Rappler received presidential ire after the news outfit and the Inquirer published a story that said that Special Assistant to the President Christopher "Bong" Go was interfering in a Navy frigate project to favor a South Korean firm.
READ: Palace bans Rappler reporter from entire complex
Media groups back Rappler
The Center for Media Freedom and Responsibility blasted the decision, calling it a "regime assault on press freedom."
"A form of censorship, the banning of Rappler and its Malacañang reporter is a clear abridgment of the Constitutionally-protected freedom of the press and is meant to silence critical and responsible press organizations," CMFR said in a statement.
The National Union of Journalists of the Philippines earlier said the president was "extremely petty" for ordering the prohibition.
READ: NUJP: Palace ban on Rappler reporter shows 'extreme pettiness'
The Foreign Correspondents Association of the Philippines also expressed its "grave concern" over the ban on Rappler journalists.
"FOCAP considers this as a blatant attack on freedom of the press, a right guaranteed by the Philippine Constitution and the United Nations," it said in a statement.
FOCAP also clarified that it is an accredited organization to cover the president's official activities just like the members of the Malacañang Press Corps after Roque claimed that FOCAP is not allowed "into the Palace and to cover these press briefings."
"The International Press Center, a unit under the Presidential Communications Operations Office, issues accreditation identification (ID) cards every year. This has been the practice since 1986 when dictator Ferdinand Marcos was removed from power," it said.
Related video: