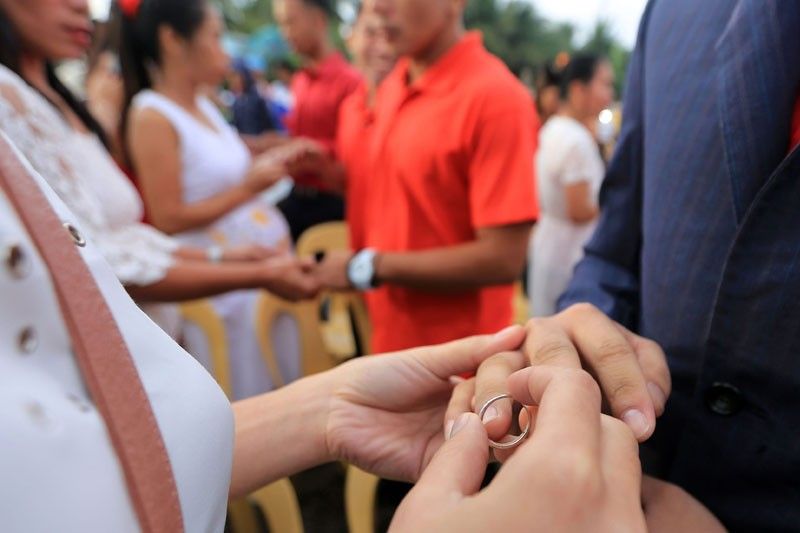 The panel headed by Laguna Rep. Sol Aragones approved the consolidation of a substitute bill that will incorporate the four measures pending in the chamber. Edd Gumban
House body approves divorce bill
MANILA, Philippines — The House committee on population and family approved yesterday the consolidation of four bills to grant divorce and dissolution of marriage to give troubled couples a less expensive legal way out.
The panel headed by Laguna Rep. Sol Aragones approved the consolidation of a substitute bill that will incorporate the four measures pending in the chamber.
The still unnumbered substitute bill is entitled "An Act Providing for Absolute Divorce and Dissolution of Marriage," according to its main author Albay Rep. Edcel Lagman. Speaker Pantaleon Alvarez is a co-author of the bill.
The measure that integrates House Bills 116 of Lagman, 6027 (dissolution of marriage) of Alvarez, 1062 of Surigao del Norte Rep. Robert Ace Barbers and 2380 of women's group Gabriela will be sent to the House plenary for possible amendments and approval.
Lagman's bill aims to provide an inexpensive and affordable divorce process that will include overseas Filipino workers (OFWs) and indigents.
Barbers proposed that the separation of couples for five years be a ground for annulment, while Gabriela wants to amend portions of the Family Code.
"The court will appoint counsel-de-officio for indigent litigants and the court will also assign social workers, psychologists, psychiatrists to assist the petitioners and the court," Lagman said, adding that this will cost "much, much less" than the average P250,000 for legal and other fees for annulment.
Barbers, chairman of the committee on dangerous drugs, said this process should be easy.
"Why are we making it hard for aggrieved partners to annul their marriages? With the simple ground of a five-year separation as a valid reason, seeking an annulment of a marriage from courts would be faster, simpler and less expensive," Barbers said.
He said that at least five years of actual separation should be a valid ground for an annulment since it would render a couple estranged enough to belie any chances of a reconciliation.
Barbers said this measure is aimed at helping alleviate the lives of many estranged Filipino couples who suffer from the effects of failed marriages.
"Unlike the other grounds for annulment, the court would not need to investigate or prove collusion between the parties because they would just have to show they had been separated for five years," he argued.
Speaker Alvarez, meantime, vowed to the public that his pet Dissolution of Marriage bill would be approved by the House on third and final reading before Congress goes on legislative break on March 23.
Alvarez said he already gave instructions to the committee handling the bill to expedite its approval, especially since they have conducted extensive hearings across the country and abroad, where overseas Filipino workers have been following it up with him.