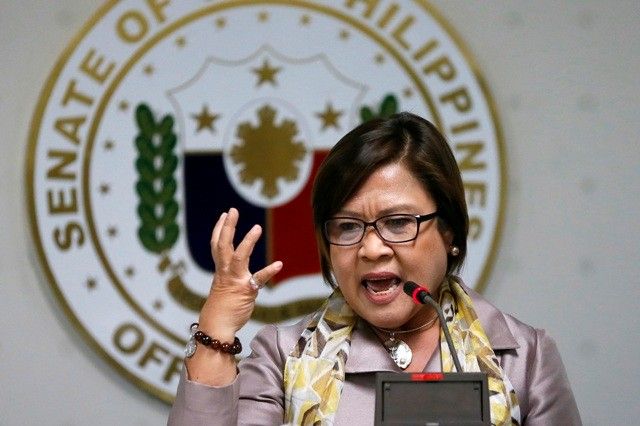 "I thank my colleagues for standing up for reason and the clear provision of the rules. It is now evident, as I've always maintained, that the cases filed against me were frivolous and were merely filed to harass me."
AP/Bullit Marquez, File
De Lima: Dismissal of ethics raps proves detractors wrong
MANILA, Philippines — Sen. Leila de Lima lauded the decision of a Senate panel to junk the three ethics complaints filed against her, saying the move showed her colleague's "high sense of fairness and objectivity."
"I thank my colleagues for standing up for reason and the clear provision of the rules. It is now evident, as I've always maintained, that the cases filed against me were frivolous and were merely filed to harass me," De Lima said.
She added: "I hope that somehow I have proven my doubters and detractors wrong. From the very start, I have always kept my innocence and in due time, hopefully soon, I will be vindicated from the fabricated charges, especially the drug cases, filed against me."
The Senate ethics committee on Tuesday dismissed the ethics raps against De Lima, Sen. Panfilo Lacson and Sen. Antonio Trillanes IV, citing lack of jurisdiction.
READ: Senate panel junks ethics raps vs De Lima, Lacson and Trillanes
The detained senator said the complaints were "politically-motivated, unsubstantiated and filed in bad faith" as these were filed by allies of President Rodrigo Duterte.
Last September 2016, lawyer Abelardo de Jesus filed an ethics complaint against De Lima based on allegations of the president that she was involved in the illegal drug raid.
It was followed by a complaint from House leaders for advising her former security aide and driver Ronnie Dayan not to attend the inquiry into the New Bilibid Prison narcotics trade.
Then Kabayan party-list Rep. and now presidential spokesperson Harry Roque Jr. lodged the third ethics complaint, accusing De Lima of conspiring with Kabayan Rep. Ron Salo to hide their alleged involvement in the Bilibid drug trade.
De Lima will mark her first year of arrest and detention on February 24.
The senator, who is currently detained at Camp Crame, has repeatedly denied the drug-related charges against her.
READ: Southeast Asian lawmakers' group calls for De Lima release