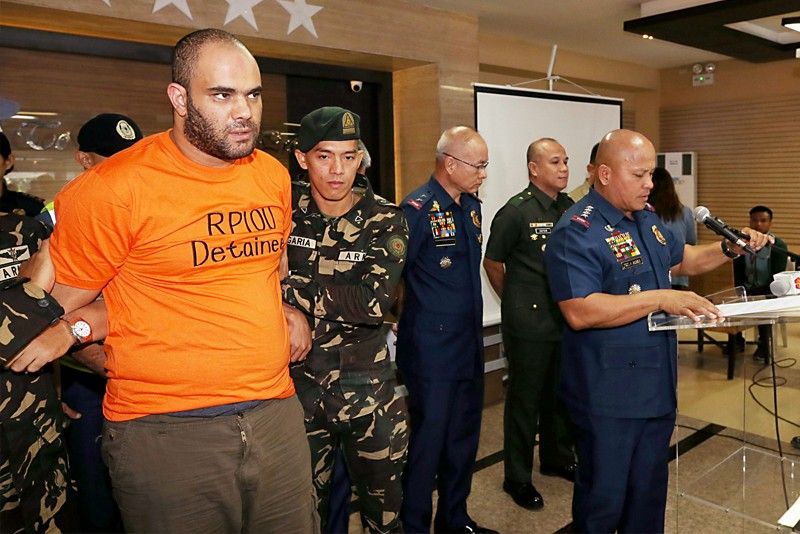 Egyptian national Fehmi Lassqued is presented to media at Camp Crame by PNP chief Director General Ronald dela Rosa and Metro police chief Director Oscar Albayalde yesterday after being arrested in possession of assorted firearms, explosives and bomb-making paraphernalia.
Arrested foreigner tagged as IS recruiter
Edu Punay
(The Philippine Star) - February 20, 2018 - 12:01am
MANILA, Philippines — An arrested Egyptian tagged by authorities as recruiter of the international terrorist group Islamic State (IS) was charged with illegal possession of firearms and explosive devices before the Department of Justice (DOJ) yesterday.
Suspect Fehmi Lassqued and his Filipina live-in partner Anabel Salipada – a native of Upi town in Maguindanao province – were brought by the intelligence operations unit of the National Capital Region Police Office for inquest before the DOJ following their arrest in Malate, Manila last Friday.
Members of the Philippine National Police (PNP) and Philippine Army raided the couple's rented apartment along M. Adriatico street after Makati City regional trial court judge Benjamin Pozon issued a search warrant.
Seized from the couple and presented as evidence were four pipes, two batteries, three capacitors, two integrated circuits, three battery clips, 11 resistors and a .45 caliber pistol with ammunition.
Assisted by public attorneys, Lassqued and Salipada waived their right to immediate release and opted to remain in detention to answer the charges in a preliminary investigation.
Lassqued denied being an IS commander and claimed that authorities forced him to admit that the explosive devices were his. He added that he is in the Philippines only to "escape" his country but admitted to using a fake Tunisian passport.
"You know of course our country is Arab now, six countries have revolution toward the old regimes," he said.
Asked where he is from, Lassqued answered "UAE (United Arab Emirates), Tunisia, Egypt, many countries I am from... I am half Tunisian, I am half Libyan, but I am born in UAE."
Senior assistant state prosecutor Peter Ong has set the hearing on Feb. 28 while awaiting submission of their counter affidavits.
PNP chief Ronald dela Rosa presented Lassqued to the public yesterday, describing him as a "government negotiator" and "commander" for IS in Syria.?Lassqued has been in the Philippines since July 2016 and traveling in and out of the country using a fake Tunisian passport when he is actually an Egyptian national.
"In the Philippines, his status is that of a recruiter but he was formerly a negotiator between IS leadership and local government officials in Syria and Turkey. He was a former IS commander in the Syria (and) Turkey borders… in fact, an IS flag was recovered from him," Dela Rosa said partly in Filipino, adding that a thorough investigation is underway to determine the extent of their involvement with international and domestic threat groups.?The PNP chief believes that the arrest may have effectively thwarted whatever hostile activities the duo was up to, emphasizing that security forces will not lower their guard and would continue to mount proactive operations against terrorism. – Cecille Suerte Felipe, Michael Punongbayan
Related video: